In today's Gospel we hear of the compassion of Christ once again. A man who is deaf and has a speech impediment is brought to Christ and, moved with compassion, Christ heals him. Perhaps the man that Christ heals is a metaphor for us. In a homily about this Gospel, Pope St. Gregory the Great notes that dumbness is often associated with deafness because, without being able to hear it is difficult to learn how to speak. He then applies that same message to the Good News of Christ; if our ears are not open to His Word, how can we share it with others? Christ removes the man's speech impediment and opens his ears. How often do we ourselves struggle to speak the Gospel confidently or hear and truly listen to the truth of the Gospel? When we find ourselves in situations which are difficult to share the Good News, do we ask Christ to heal us from our speech impediment and to grant us the courage to share His Word? 
In the First Reading from Genesis we see the consequences of closing our ears to the words of God. It is the story of Adam and Eve and the Fall. Rather than listening to the command of God to not eat the fruit of the tree in the middle of the garden, they close their ears to Him choosing instead to listen to the voice of the serpent. This choice led Adam and Eve away from God and caused them so much shame that they hid themselves from the Lord. 
God's words and commands for us are always for our own good. He loves us and desires for us to be in full communion with Him. As the Gospel says, "He has done all things well" and creating us for life with Him is one of the things He has done well. 
May our hearts and ears always be open to the voice of the Lord so we can speak His Word with courage. 
Open our heart, O Lord, to listen to the words of your Son.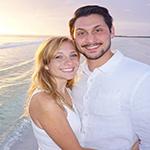 Dakota currently lives in Denver, CO and teaches English Language Development and Spanish to high schoolers. She is married to the love of her life, Ralph. In her spare time, she reads, goes to breweries, and watches baseball. Dakota's favorite saints are St. John Paul II (how could it not be?) and St. José Luis Sánchez del Río. She is passionate about her faith and considers herself blessed at any opportunity to share that faith with others. Check out more of her writing at https://dakotaleonard16.blogspot.com.
Feature Image Credit: Hannah Wernecke, https://unsplash.com/photos/8mqaLDl95I4