"Nothing that enters one from outside can defile that person; but the things that come out from within are what defile" (Mark 7:15).
These words, powerful words of Christ Jesus, shake the cage I have recently placed myself in. In such a time of emotional, political, and physical anxiety, it is easy to place oneself in a separate place from the turmoil. I have heard many people tell me that they are becoming more secluded, physically and emotionally, due to all of the hurt and hate they are witnessing across the globe and in their own lives. They find themselves angrily lashing out, letting sadness and anger win, leading to both destructive conversations and self-destructive actions. 
Over a year ago, Pope Francis tweeted, "Loneliness is not overcome by closing in on ourselves, but by crying out to the Lord, for the Lord hears the cry of those who find themselves alone." 
Today, nearly a year into a pandemic of loneliness, we are once again reminded that everything we are witnessing in our lives does not and should not be the way we give witness to our faith. 
Today's reading reminds me that I am in control of my actions, of my reactions, even when I feel as though my situation is out of my control. I am reminded that I, as a truly beloved child of my Almighty Father, can only control how I respond to outside forces. Only I can decide the amount of love I put forth onto others and I can make this decision no matter what is happening around me. I am reminded that it is not the turmoil of the world that decides for me, but the strength of my faith and promise of love. 
In a world where so much feels and truly is out of our control, it is up to us to decide whether we allow the peace and joy of our God to shine from our words, our thoughts, our interactions… We can choose not to let our own sadness and anger bleed into others' lives. Either way, we can no longer tell ourselves that it is the world that turns our hearts away from the Lord. 
As we reflect upon this and stand a week from Ash Wednesday, the beginning of Lent, I ask you to think of your words and actions. Make the conscious effort to reflect your loving God in all that you do. Give a true witness to your faith to those around you. Do not let the sadness, fear, and anger win.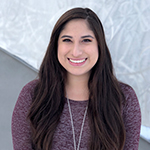 Veronica Alvarado is a born and raised Texan currently living in Michigan. Since graduating from Texas A&M University, Veronica has published various articles in the Catholic Diocese of Austin's official newspaper, the Catholic Spirit, and other local publications. She now works as the Content Specialist in Diocesan's Web Department.
Feature Image Credit: Josh Boot, https://unsplash.com/photos/2×19-mRQgX8