In today's Gospel, Jesus reprimands the Pharisees for their criticism of the Apostles not properly washing their hands before their meal. Jesus is not necessarily saying that the rituals the Pharisees practice are bad in and of themselves. What He is truly criticizing is the emptiness of their rituals. He references Isaiah's prophecy that, "This people honor me with their lips but their hearts are far from me."  Christ calls the Pharisees hypocrites because, while they follow the ritual, they do so without love in their hearts for God. They merely go through the actions rather than doing so with love and honor for the Father. 
How often do we fall into the same pattern as the Pharisees in today's Gospel? Do we go to Mass and spend more time internally criticizing the young man in a football jersey and jeans than we do contemplating the Word of God? Do we truly meditate on the words of the Eucharistic prayer or are we thinking about our brunch order? 
This is what I find myself doing (especially during the Eucharistic prayer). I've heard it so many times that I often allow it to just wash over me rather than giving my all to Christ in that moment. Then, when I look at the words that are being said it hits me how important it is to not allow ourselves to fall into empty rituals: "We give you praise, Father most holy, for you are great, and you have fashioned all your works in wisdom and in love. You formed man in your own image and entrusted the whole world to his care, so that in serving you alone, the Creator, he might have dominion over all creatures." This is what we might hear during the Eucharist prayer. What beautiful words that come directly from the Creation story in Genesis that we hear as today's First Reading. When I go to Mass merely going through the motions, I don't notice those connections; I take for granted the love with which these rituals were made and the love that God has for each and every one of us. The purpose of our rituals–the sacraments and our prayers–is to demonstrate our love, true devotion, and gratitude for God who is our Creator and Savior. 
May we go about our devotions with great intentionality and allow the love of God to permeate all that we do.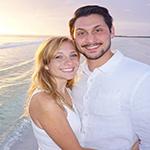 Dakota currently lives in Denver, CO and teaches English Language Development and Spanish to high schoolers. She is married to the love of her life, Ralph. In her spare time, she reads, goes to breweries, and watches baseball. Dakota's favorite saints are St. John Paul II (how could it not be?) and St. José Luis Sánchez del Río. She is passionate about her faith and considers herself blessed at any opportunity to share that faith with others. Check out more of her writing at https://dakotaleonard16.blogspot.com.
Feature Image Credit: Jacob Bentzinger, https://unsplash.com/photos/jYQ-QxkrFpc