In today's readings, I can almost feel the excitement and the joy of God as he created the heavens and the earth "in the beginning." We feel pride and satisfaction when we create something as simple as a poem, a photo on our phones, a new dish to please a friend, or a wall in our home tastefully decorated with family photos. There is a warmth in our hearts as we share something beautiful and meaningful with others. Something we conceptualized and made ourselves. 
"And God saw how good it was…." The world is beautiful, and it is God's magnificence that is revealed in all that God has created, from the tallest mountain to the tiniest flower. 
In the Gospel, Jesus is creating health, wholeness, goodness, healing. His touch is returning people to community. His touch is making sad faces smile, and filling burdened hearts with laughter. Gratitude is streaming through the people as they scurry about to share Jesus' love with as many people as possible.
How good is the good God.
When you are creating, healing, holding, you are radiating the goodness of the God who creates, heals, and restores us to life and holds us in his love. 
These days there is much reason for our eyes to be filled with tears and our hearts broken with sorrow. Let us be God-like and not allow the darkness to blind our eyes to the truth of the good God's heart who is even now unfolding his giving love, bringing about the reign of his heart. 
When I feel alone today, I think I will try to remember that God has personally walked this earth as Creator and Redeemer for me, for us. Today's Gospel reminds me that Jesus personally reached into the lives of the broken in order to reassure them that their creation was no accident, and nothing can hinder the meaning of their lives. We are each created by the hand of God, saved by the life of Jesus, and sanctified by the breath of the Spirit. 
How good the good God is.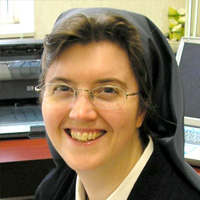 Kathryn James Hermes, FSP, is the author of the newly released title: Reclaim Regret: How God Heals Life's Disappointments, by Pauline Books and Media. An author and spiritual mentor, she offers spiritual accompaniment for the contemporary Christian's journey towards spiritual growth and inner healing. She is the director of My Sisters, where people can find spiritual accompaniment from the Daughters of St. Paul on their journey. Website: www.touchingthesunrise.com Public Facebook Group: https://www.facebook.com/groups/srkathrynhermes/ For monthly spiritual journaling guides, weekly podcasts and over 50 conferences and retreat programs join my Patreon community: https://www.patreon.com/srkathryn.
Feature Image Credit: dae jeung kim, https://pixabay.com/photos/egret-flying-fog-dawn-sunrise-5937499/