Today is the 25th anniversary of the day of prayer for women and men in consecrated life, instituted in 1997 by Pope Saint John Paul II. The Feast of the Presentation of the Lord is a beautiful day to celebrate the gift of consecrated life in the Church. In the liturgy for the Feast of the Presentation, candles are blessed symbolizing Christ who is the light of the world, and those who have consecrated their lives to God are called to reflect the light of Christ to the world. (The observance of the World Day of Consecrated Life in the US has been transferred to the following Sunday.)
One of the key figures who appears in the Gospel today is Simeon. Of all the people in the Temple that day when Mary and Joseph brought Jesus there to present him to the Lord, only Simeon and Anna recognized the baby as the longed-for Messiah. Luke states three times that Simeon was a man immersed in the power of the Holy Spirit. "The Holy Spirit was upon him," he knew that he wouldn't see death before he had seen the Christ of the Lord "because it had been revealed to him by the Holy Spirit." And finally, that day, "he came in the Spirit to the temple."
Simeon lived under the guidance and impulse of the Spirit so he could see things that others could not. He could see and proclaim what God was doing. He could see how grace was at work. "My eyes have seen your salvation," he cried out. Can you imagine the joy of this old man that the mystery he had waited for decades to touch was now held in his arms. 
Last year, on this day, Pope Francis reflected upon Simeon's words at a Mass celebrated for Religious. I want to use them as the basis for my thoughts here with you. In the dark and chaotic situation in our world today, all of us need to be able to see salvation, to see in our life God's faithful gift, to witness God's love at work in the world.
My eyes have seen your salvation! God's gift even in moments of darkness and powerlessness. It is the tempter that tries to keep us focused on what hasn't been, what we've lost, what we've been unjustly deprived of. 
My eyes have seen your salvation! God's gift in fragility and weakness. It is the tempter who hides the light and whispers to us: "You are no good. God can't love you. Look at how little you love God. What have you done for him?"
Pope Francis described what happens to us, "We no longer see the Lord in everything, but only the dynamics of the world, and our hearts grow numb.  Then we become creatures of habit, pragmatic, while inside us sadness and distrust grow, that turn into resignation."
To see correctly, to see in truth, we need to be like Simeon, we need to be able to perceive God's grace for us. We need to see salvation, to look at what God is doing.
Instead of focusing on thoughts and feelings about what is happening in our lives and within our hearts, thoughts and feelings that disorient us, Simeon shows us how to be led by the Spirit, inspired by the Spirit, filled with the Spirit. It takes a lot of courage to turn our eyes away from ourselves, to turn our attention away from the tempter and to lift them instead to the Lord. It takes courage to believe that God is at work even when everything we see around us seems to be falling apart.
On this Feast of the Presentation, even if you can't get to church for Mass, light a candle, be warmed by the flame, be filled with the light that burns bravely in the darkness and braves even the wind…. May this candle remind you to see the Lord, the Light of the World, in everything. May it remind you that your life is happiest when it revolves around God's grace. Courageously hold up the candle to a window, in front of the newspaper or your Twitter account or Facebook page and proclaim, "My eyes have seen, O Lord, your salvation!"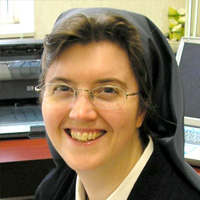 Kathryn James Hermes, FSP, is the author of the newly released title: Reclaim Regret: How God Heals Life's Disappointments, by Pauline Books and Media. An author and spiritual mentor, she offers spiritual accompaniment for the contemporary Christian's journey towards spiritual growth and inner healing. She is the director of My Sisters, where people can find spiritual accompaniment from the Daughters of St. Paul on their journey. Website: www.touchingthesunrise.com Public Facebook Group: https://www.facebook.com/groups/srkathrynhermes/ For monthly spiritual journaling guides, weekly podcasts and over 50 conferences and retreat programs join my Patreon community: https://www.patreon.com/srkathryn.
Feature Image Credit: Arent de Gelder, Public domain, via Wikimedia Commons