Desire: it can often be geared towards holy and beautiful things, but how often do our desires become absorbed in the culture around us? Do we let the world convince us of what should be most important? My anxiety spirals as I ponder my own life in comparison to that of others. I get lost in thought and before I know it I have lost sight of God's love and goodness, and all the blessings He has provided in my life amidst all circumstances.
Since the Fall, doubt has entered the human heart and led to sin. Sin occurs when we doubt God: instead of trusting the Father we try to take control. Doubt and lack of trust in God causes us to search for happiness, something that is fleeting. Joy in the Lord is a constant, no matter where we are in the journey of life. Doubt, comparison, and coveting steal this joy that God intends to freely share with us.
How can we combat this comparison and coveting that we experience to live in true freedom in God? There are several ways that can provide peace and comfort when these anxious thoughts seem to attack the heart. Time with Jesus in Adoration is a significant means of offering these doubts to Christ, laying them at His feet. The Litany of Humility is another way of taking time to be with God and putting Him first. Also, meditating upon the experiences of the saints gives us a great perspective of how Christ can and will help us overcome. Finally, accepting our failings and bringing them to God throughout the day in the ordinary moments can lead to deeper trust and intimacy with the Lord. When we recognize we are nothing without God it helps us to shift our perspective to what really matters. 
Intimacy with Christ in Adoration, prayer, and communion with the saints lead to a strengthening of our joy, an increase in devotion to Him that is the source and summit of our faith. When we make the conscious choice to ask for God's help in putting Him first, He will answer. Trust and have joy, brothers and sisters!
"If we find ourselves with a desire that nothing in this world can satisfy, the most probable explanation is that we were made for another world." C.S. Lewis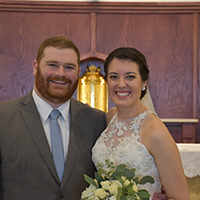 Nathalie Shultz is a joyful convert to the Catholic faith and a competitive swimmer with Obsessive Compulsive Disorder (OCD).  She loves to share her passion for Catholicism with others, including her conversion story and how God continues to work miracles in her life through her OCD. She is the Director of Religious Education for the North Allegan Catholic Collaborative of parishes. Nathalie is married to her best friend, Tommy Shultz. Her favorite saints include St. Peter the Apostle, St. Teresa of Calcutta, and St. John Paul II.  She is also a huge fan of C.S. Lewis. If you have any questions for Nathalie, or just want her to pray for you, you can email her at rodzinkaministry@gmail.com.
Feature Image Credit:  Exe Lobaiza, https://www.cathopic.com/photo/3484-santisimo-sacramento-