There is a battle going on in today's Gospel, but Jesus is the only one who speaks! The Pharisees don't need to open their mouths – in fact, they willfully remain silent – because Jesus is battling for their hearts. But their hearts are hardened. They are not there to hear Jesus teach or even to hear the Scripture.  They are only there to watch Jesus, hoping to catch him in the act of doing something "so that they might accuse him."
Jesus knows this. He has sparred with them before. He knows what they are about. And so he calls them out, gives them the opportunity to engage, to discuss, to reconsider. He calls up the man with the withered hand and asks the Pharisees one of those brilliant "Jesus questions"; they can make a choice for truth or continue in their untruth. They must choose what is true or say what is untrue! But they know that no matter how they answer, they won't get their way, because they can't have it both ways! They are unwilling to make the choice and so they remain silent. They refuse to answer.
Choosing not to choose is choosing.
What is Jesus' response? He is angry and grieved. The Greek words used to describe his reaction are unique in the New Testament. His anger is synonymous with the wrath of God; but Jesus' grief is described with the intensive form of the verb "to be sorry or grieve." Jesus is displeased with their blindness, and filled with sorrow at their willful hardness of heart, because he has come to save them too. But they cannot rejoice with those who have been healed and set free from sin. They cannot see the Messiah restoring all that has been injured by sin, and calling them into his glorious kingdom. They have closed themselves to what is happening right in their midst.
It is not enough for them to ignore him or dismiss him or even talk against him. It is not enough for them to refuse to hear the beauty of his words or the freedom that he teaches. They must destroy him. Rather than allow themselves to be moved by the good, they harden themselves against this thorn in their side and determine to kill him!
This is a fitting Gospel for the saint of today: St. Sebastian was one of the many martyrs executed during the persecutions of Diocletian. As a Roman soldier, Sebastian was found to be a Christian and did not back down at the threat of death from those who had hardened their hearts against the truth. Like Christ, he stood firm even as they shot him full of arrows because he was determined to obey God and his conscience rather than men, as the Collect for today's Mass reminds us.
St. Sebastian, intercede for us, that we might remain open to Good and stand firmly in the Truth, no matter the cost!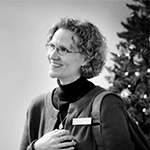 Kathryn Mulderink, MA, is married to Robert, Station Manager for Holy Family Radio. Together they have seven children (including newly ordained Father Rob and seminarian Luke ;-), and two grandchildren. She is a Secular Discalced Carmelite and has published five books and many articles. Over the last 25 years, she has worked as a teacher, headmistress, catechist, Pastoral Associate, and DRE. Currently, she serves the Church as a writer and voice talent for Catholic Radio, by publishing and speaking, and by collaborating with the diocesan Office of Catechesis, various parishes, and other ministries to lead others to encounter Christ and engage their faith. Her website is https://www.kathryntherese.com/.
Feature Image Credit: Marcos Paulo Prado, https://unsplash.com/photos/Iv0mvJx9uLM