There is a light snow falling as I write. It covers the dulled yellow and green grasses that are still visible here in West Michigan, making things look fresh. Snow on roadways can be quite treacherous. There are many who forget that traction, and a wet or snowy surface, can result in sliding, slipping, spinning, and much greater stopping distances.
If you've ever been in mud, on a dirt road, caught a patch of ice or snow, in a way you didn't intend, with a vehicle or on foot, you know what I mean. Suddenly you can lose all sense of direction or feel caught in slow motion while being out of control of the situation. I kinda feel like that when looking at what has been going on in our country, on so many levels and in so many situations. It can be overwhelming to know where to focus. The readings today can help.
"We earnestly desire each of you to demonstrate the same eagerness for the fulfillment of hope until the end…hold fast to the hope that lies before us", is a directive from the First Reading. The Gospel acclamation calls out, "May the Father of our Lord Jesus Christ enlighten the eyes of our hearts, that we may know what is the hope that belongs to our call." 
My focus is on hope. It's the hope and promise of God. The Lord of the sabbath is my hope. I am to be His hands, his body, hope and love in this world. It is my charge, given through the waters of baptism.
"Hope has two beautiful daughters. Their names are anger and courage. Anger that things are the way they are. Courage to make them the way they ought to be." St. Augustine of Hippo
Please spend some time with the links you find here. My prayer is that you too may find hope to do what is yours to do to keep hope alive in this world as Joyce Rupp so beautifully said,

Faithful Companion,
in this new year I pray:
to live deeply, with purpose,
to live freely, with detachment,
to live wisely, with humility,
to live justly, with compassion
to live lovingly, with fidelity,
to live mindfully, with awareness,
to live gracefully, with generosity,
to live fully, with enthusiasm.
Help me to hold this vision and to daily renew it in my heart,
becoming ever more one with You, and my truest self.  Amen

You Keep Hope Alive
All My Hope

Hope for the Future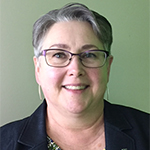 Beth Price is part of the customer care team at Diocesan. She brings a unique depth of experience to the group due to her time spent in education, parish ministries, sales and the service industry over the last 25 yrs. She is a practicing spiritual director as well as a Secular Franciscan (OFS). Beth is quick to offer a laugh, a prayer or smile to all she comes in contact with. Reach her here bprice@diocesan.com.
Feature Image Credit: Jessica Ruscello, https://unsplash.com/photos/lUtPqjz5D5k