In twelve-step programs, one of the tools used for spiritual growth is the "three A's": Awareness, Acceptance, and Action. Each of our readings today highlights one or more of these steps in a spiritual growth process.
Awareness
St. Paul beautifully describes the awareness we need as Christians: that we cannot separate our bodies and souls when it comes to morality and our relationship with Christ. We must have interior and exterior moral integrity, for the Holy Spirit dwells within us. Once we know this, we can move toward accepting and acting on this truth.
Acceptance
In our First Reading, we see young Samuel with some awareness that someone is calling him. Like many of us, though, he goes to the wrong place, with pure intentions, when God calls. With the help of Eli, however, he accepts the call of God and becomes ready to put His will into action.
Action
In our Gospel, we see the first apostles going through these three phases rather quickly They become aware that Jesus is Messiah through John's word, accept that truth, and spring into action, following Jesus and telling others about Him. 
Our psalm also speaks of this process: the psalmist becomes aware of God stooping toward him, he accepts God's call, saying, "behold I come," and he acts on God's call to announce His justice to the vast assembly.
Sometimes I wish that God's call for me were as explicit as the calls that Samuel and the apostles received. For most of us, though, the path to awareness of God's will for us means prayer, to grow closer to God, and quiet meditation, so that we can hear God speaking in our hearts. Once we are aware, then more prayer and mediation come in to help conform our wills to His so that we can accept it. Then, when we act on our acceptance of God's plan, our prayers and meditation can give us the strength to carry out God's will.
So then by prayer, meditation, and following His will, we grow closer to God. That is what spiritual growth is all about!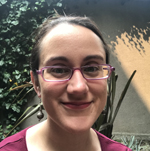 J.M. Pallas has had a lifelong love of Scriptures. When she is not busy with her vocation as a wife and mother to her "1 Samuel 1" son, or her vocation as a public health educator, you may find her at her parish women's bible study, affectionately known as "The Bible Chicks."
Feature Image Credit: Pexels, https://pixabay.com/photos/clouds-landscape-mountain-range-1837129/