"Sorrow for sin is indeed necessary, but it should not be an endless preoccupation. You must dwell also on the glad remembrance of God's loving-kindness; otherwise, sadness will harden the heart and lead it more deeply into despair"  ~St. Bernard~
In today's Gospel we hear of Christ's miracle of the healing of a leper. Lepers were outcasts; they were seen as unclean and were often not treated with the dignity due a human being. Jesus, despite how lepers were normally treated, touches the man in order to heal him. In the same way that Christ heals the leper out of compassion, so too does He heal us from our sins. God's love is freely given to us. As part of his ultimate plan for us to share in His eternal life, God the Father offered His only begotten Son as ransom for our sins. The same eyes that looked at the leper's disease with compassion and saw human dignity looks at our lowliness and sees our worth as sons and daughters of God. However, like the leper, we must ask God to cleanse us. By participating in the Sacraments, most especially by receiving our Lord in the Eucharist and by seeking absolution through Reconciliation, we unite ourselves to Him in love. 
Paul's exhortation to the Hebrews to persevere in faith in the First Reading urges us to do the same. He writes, "Encourage yourselves daily while it is still 'today' so that none of you may grow hardened by the deceit of sin". He reminds us of a warning against hardening our hearts against the love of God and follows with a plea to encourage one another in faith. When we harden our hearts, when we do not seek Him in the Sacraments, we turn away from His love and we distance ourselves from His salvation.  By living the Christian life devoutly, we inspire and motivate others to do the same. Our love for and encouragement of one another is a witness to the love that God has for each of us. By bringing one another to Christ, we open, rather than harden, our hearts and "become partners of Christ". 
May we live our lives with hearts that are open to God's love. May we rejoice in the knowledge that Christ's love covers a multitude of sins.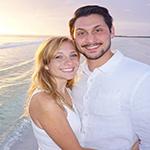 Dakota currently lives in Denver, CO and teaches English Language Development and Spanish to high schoolers. She is married to the love of her life, Ralph. In her spare time, she reads, goes to breweries, and watches baseball. Dakota's favorite saints are St. John Paul II (how could it not be?) and St. José Luis Sánchez del Río. She is passionate about her faith and considers herself blessed at any opportunity to share that faith with others. Check out more of her writing at https://dakotaleonard16.blogspot.com.
Feature Image Credit: Annie Spratt, https://unsplash.com/photos/S6aR9JyKdUQ