As we come to the end of this Christmas season, the readings today remind us of the Good News the season brings. The news of the birth of a Savior; the news that God loves us so much that He Himself became man in order to save us from our sins; the news that there is indeed hope for eternal life with our Maker! 
Despite the overwhelmingly good news of the Christmas season, we may not feel as though all is good. We will still weather storms. In fact, many of us may have weathered brutal storms during the Christmas season. Today's readings remind us that no matter what storms we face, God is with us and He loves us. 
In today's Gospel we hear the story of Jesus walking on water during a storm. He sees the disciples in a boat on the stormy sea and walks toward them intending to pass them by. However when the disciples see Christ walking on water, they fear He is a ghost and call out to Him. His response is "Take courage, it is I, do not be afraid". In the midst of their storm, the disciples did not recognize the love of Christ Himself enveloping them and ensuring their safety. Seeing their fear, Christ enters the boat with the disciples and He calms the storm. How often do we, in the midst of our own struggles and storms, fail to recognize Christ's presence and love? Do we invite Him into our boat and ask him to calm our storms? In the First Reading, John tells us that "God is love, and whoever remains in love remains in God and God in him….there is no fear in love but perfect love drives out fear." When we fully allow God into our lives and give Him control, we have nothing to fear because His love will drive out that fear.
Of course, that's much easier said than done. It seems to be an impossible task to place our full and unconditional trust in God and allow Him to take control of those things we cling to so closely. Perhaps we can begin by praying to Him in the small storms and that way when the big storms come, and the big storms will come, we will know exactly where to go because we will recognize God's immense love for us. 
May we follow the example of St. André Bessette who said "There is so little distance between heaven and earth that God always hears us. Nothing but a thin veil separates us from God."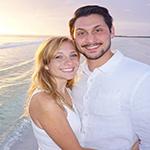 Dakota currently lives in Denver, CO and teaches English Language Development and Spanish to high schoolers. She is married to the love of her life, Ralph. In her spare time, she reads, goes to breweries, and watches baseball. Dakota's favorite saints are St. John Paul II (how could it not be?) and St. José Luis Sánchez del Río. She is passionate about her faith and considers herself blessed at any opportunity to share that faith with others. Check out more of her writing at https://dakotaleonard16.blogspot.com.
Feature Image Credit: GDJ,https://pixabay.com/vectors/jesus-christ-miracle-5000359/