Looking back at 2020, it is easy to say with disgust that it was a terrible year. No doubt about it. In a sense, yes, it was terrible, but it was also rich. 
Think of it this way.
Miners don't become rich unless they know where to find the gold. It does not always sit in a lump on the ground, waiting to be picked up and marveled at by a passerby. You have to look for the gold — you have to find it. Just because you don't find the gold does not mean that it is not there. You just aren't looking hard enough. 2020 has been hard, true, but perhaps we are not looking at it with the eyes of God, the eyes that see every blessing and every gift that is and was given to us.
In the First Reading, the Lord said to Moses, "Say to them, The LORD look upon you kindly and give you peace! So shall they invoke my name upon the Israelites, and I will bless them." God will bless us. God has blessed us. We should be full of joy because we are blessed. We should invoke his name in praise. May the nations be glad and exult. God has given us so much.
The Second Reading calls attention to the blessing of Christmas, the greatest blessing of all. "When the fullness of time had come, God sent his Son, born of a woman, born under the law, to ransom those under the law, so that we might receive adoption as sons. As proof that you are sons, God sent the Spirit of his Son into our hearts, crying out, "Abba, Father!" so you are no longer a slave but a son, and if a son then also an heir, through God." This is the blessing of blessings. God sent his Son to redeem us, to ransom us so that we might be his adopted children. What a gift! Sending Jesus not only to save us, but to welcome us as adopted sons and daughters into His family, the Holy Family. 
We have been blessed. 
We are blessed. 
The shepherds, too, are good examples of those who invoke the name of the Lord. They "…returned, glorifying and praising God for all they had heard and seen, just as it had been told to them." 
They had been blessed and so they praised the Lord.
They already knew that a savior would come, but that does not dampen their joy. In fact, it probably increased it! We should be like them as well, lifting our arms and praising the Lord, not just when times are obviously good, or when our praise and worship music is uplifting, but now, and always, for he has given us so much.
A new year brings new promise, new hope and new blessings. May we continue to praise God for them this New Year and always.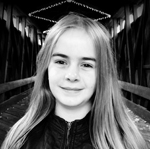 Perpetua Phelps is a high school student residing in West Michigan and is the second of four children. Apart from homeschooling, Perpetua enjoys volunteering at her church, attending retreats, studying Latin and French, and reading classics such as Beowulf, The Lord of the Rings, C.S. Lewis' Space Trilogy, and Mark Twain's Joan of Arc. She also spends much time writing novels, essays, and poetry for fun and competition. A passionate Tolkien fan, Perpetua is a founding member of a Tolkien podcast.
Feature Image Credit: Immo Wegmann, https://unsplash.com/photos/U2sp_4k9gIc