2020. The last day. A sacred day. A blessed memory of what has been, despite all, a year also blessed. The year when Jesus came. Comes. Will keep coming. Every day. Every hour. Every minute into 2021.
Today's Gospel shines with "coming" language, connecting words, relationship, loving, living, lighting…
As we end this year, we may be saying good riddance to the darkness, hoping for something better in 2021. Jesus, however, comes into the darkness. He comes to bring life. He arrives with the light. And the darkness cannot overcome him.
When we choose living, pleasing others, reaching out in whatever way possible… we are Christ today, lighting the way through our living and our loving.
When we choose to light up someone's sorrowful eyes, shed light on a confusing or painful situation, or offer the light of comfort to another… We are Christ. Today. And. Tomorrow.
We can be Christ because Christ has already showered his living and lighting and loving gifts on us.
The darkness brings out Christ in you because Christ is in you,
he came for you,
to melt the darkness with the touch of his presence,
so that through you and all he has touched,
no one might be alone in the world.
Despite isolation, stay with the living, lighting and loving today and tomorrow. Despite foreboding thoughts, believe in the living, lighting and loving today.
Fear less, and live more. Turn on all the lights in your heart and love more. Loving will warm our own hearts even as we give this love away.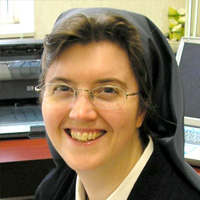 Kathryn James Hermes, FSP, is the author of the newly released title: Reclaim Regret: How God Heals Life's Disappointments, by Pauline Books and Media. An author and spiritual mentor, she offers spiritual accompaniment for the contemporary Christian's journey towards spiritual growth and inner healing. She is the director of My Sisters, where people can find spiritual accompaniment from the Daughters of St. Paul on their journey. Website: www.touchingthesunrise.com Public Facebook Group: https://www.facebook.com/groups/srkathrynhermes/ For monthly spiritual journaling guides, weekly podcasts and over 50 conferences and retreat programs join my Patreon community: https://www.patreon.com/srkathryn.
Feature Image Credit: Exe Lobaiza, cathopic.com