Christmas, when you come down to it, is about family. When we look into our nativities at Christmas time, we see a family. We live in a family. The Father has invited us into the heart of the Trinity, the community where we know we belong, are loved, are truly ourselves in Christ, hidden in God. St. Ambrose wrote that Jesus lived on earth that we might live among the stars. He was a slave to make us God's children. We are his brothers and sisters and co-heirs.
This Christmas we may or may not have been able to gather as family. But this isn't exactly what I was thinking of as I read the readings for this Feast of the Holy Family.
I'm thinking of my father, and his absolute fidelity to my mom. For just over a year they have lived in an independent living complex that she might be safe. You see, she suffers with Alzheimer's. I noticed this year that the First Reading sounds one way when we hear it as a child, another way when we hear it as a young adult, and still another when we hear it in our fifties, as we watch the two dearest people in the world who gave us life, begin to struggle, and stumble, and hold each other to the end.
It's no longer about obedience. It's no longer about having to take care of them when they are old. It is about reverencing all that they have become.
In the Second Reading, the letter to the Colossians reminds us of how to live in the family instituted by Jesus, as his brothers and sisters… and in any and every family.
"Put on, as God's chosen ones, holy and beloved,
heartfelt compassion, kindness, humility, gentleness, and patience,
bearing with one another and forgiving one another,
if one has a grievance against another;
as the Lord has forgiven you, so must you also do.
And over all these put on love,
that is, the bond of perfection."
With every day my love for my parents grows deeper as I watch them heroically stand by and for each other through these years, even as I suffer not being able to be with them or make things just a little easier for them.
I understand that your feelings about family may be different than mine, your experience, your history, your own memories, may perhaps be tainted with sorrow. But for all of us, in our own unique ways, we can receive the words of Simeon spoken to Mary as spoken in some mysterious way to us: "…and you yourself a sword shall pierce…."
On this Feast of the Holy Family may we find our own way to reconciliation with our own families, as best we can. May we have new eyes to wonder at the courage and the love we witness, a new heart to hold the suffering and the weakness, a new will to be there for them as best we can.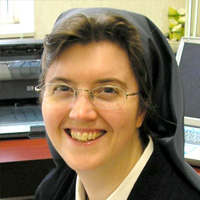 Kathryn James Hermes, FSP, is the author of the newly released title: Reclaim Regret: How God Heals Life's Disappointments, by Pauline Books and Media. An author and spiritual mentor, she offers spiritual accompaniment for the contemporary Christian's journey towards spiritual growth and inner healing. She is the director of My Sisters, where people can find spiritual accompaniment from the Daughters of St. Paul on their journey. Website: www.touchingthesunrise.com Public Facebook Group: https://www.facebook.com/groups/srkathrynhermes/ For monthly spiritual journaling guides, weekly podcasts and over 50 conferences and retreat programs join my Patreon community: https://www.patreon.com/srkathryn.
Feature Image Credit: Vanesa Guerrero, rpm, cathopic.com