"When they hand you over, do not worry about how you are to speak or what you are to say. You will be given at that moment what you are to say. For it will not be you who speak but the Spirit of your Father speaking through you" (Matthew 17:19–20).
As always, and especially on this Feast of Saint Stephen, the First Martyr, God promises tribulation. And as always, and especially on this feast day, God tells us not to be afraid or troubled. This can be a perplexing dichotomy: if we should expect trials, isn't there something to worry about? Yet, Jesus is clear: "Do not worry about tomorrow; tomorrow will take care of itself. Sufficient for a day is its own evil" (Matthew 6:34).
Saint Stephen is a great example of this tension. Because of his courageous defense of Christ as the Messiah, he faces imminent death. Even before he gave his speech, he actively debated those who disagreed. He knew that this would cause trouble, and that it might lead to worse. Despite this, Stephen pressed onward without a trace of anxiety. He did not worry.
Our First Reading begins as Stephen is finishing his eloquent defense of the Faith. Though the people are infuriated, Stephen is not paying attention to them. What is he doing instead? "But he, filled with the Holy Spirit, looked up intently to heaven and saw the glory of God and Jesus standing at the right hand of God, and he said 'Behold, I see the heavens opened and the Son of Man standing at the right hand of God'" (Acts 7:55–56). Stephen is looking up to heaven.
Saint Stephen knows what is truly important, and it's not how others will react to Catholicism, or the pain that comes with being a committed follower of Christ. It is the things that are above: "Seek those things which are above, where Christ is, sitting at the right hand of God" (Colossians 3:1). This is exactly where Stephen is looking, down to the last detail. He does not mind the hatred of the crowd, because his joy is based in heaven. He is confident in his Faith, and he has a solid foundation in the teaching and power of Christ.
This should be a lesson for us. It is not that we shouldn't expect adversity as Catholics — in fact, there's an argument to be made that we should be concerned if we are not experiencing any kind of persecution for our beliefs. But in reality, the persecution doesn't matter. If we have the protection of the Holy Trinity and the heavenly host, we will always conquer. Nothing but our own sin can separate us from the love of God in Jesus Christ. There is truly nothing to worry about.
As we continue to celebrate the Christmas season, let us keep this in mind, not just as a nice phrase, but as a true and practical fact. The trials and tribulations of this life, while truly difficult, are really not important in the long run. What is important is eternal life with God, and this has been promised to those who love Him and follow His commands. Let us remember this and rejoice that Christ made it possible on Christmas Day.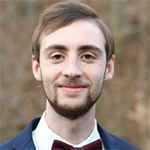 David Dashiell is the Associate Director of Liturgy for a group of parishes in Pittsburgh, Pennsylvania. When he is not spending time with his wife and infant daughter, he is writing on philosophy and theology for various online publications. You can find some of these in Crisis Magazine and the Imaginative Conservative, and you can contact him at ddashiellwork@gmail.com.