The Gospel scene today is very familiar. As Mary greets her cousin Elizabeth, the baby she carries jumps in her womb. Elizabeth shares that joyful experience with Mary, crying out blessings on the infant and his Mother.
St. Ephraim the Syrian reflected on Mary's perspective of the child in her womb, writing, "The Babe that I carry carries me." Her 'yes' to Gabriel allowed the much anticipated eternal light to enter the world in human form.
The O Antiphon for today echoes this theme. 'O Radiant Dawn, splendor of eternal light, sun of justice: come and shine on those who dwell in darkness and in the shadow of death.'
Today and throughout all of history there exist times of darkness, death, new life and light. These recurring themes are ripe for several moments of quiet meditation. When you have the time, reread the above three paragraphs and sit with the images, feelings, memories or words that are brought to your mind. You can also click on one of the links below to help focus your thoughts.
Be gentle with yourself, especially if this is a new type of experience for you. There is no right or wrong way to reflect because what comes to mind is part of your unique spiritual journey. Take a few notes, journal, draw or just acknowledge what comes to you.
Carry the images or words in your mind for the day. Know that God is there with you through all of your experiences. Know that you have been created in His image and are loved. Believe that you are blessed.
Breath of Heaven, Mary's Song
O Antiphons
Latin Chant of O Antiphons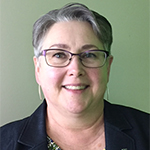 Beth Price is part of the customer care team at Diocesan. She brings a unique depth of experience to the group due to her time spent in education, parish ministries, sales and the service industry over the last 25 yrs. She is a practicing spiritual director as well as a Secular Franciscan (OFS). Beth is quick to offer a laugh, a prayer or smile to all she comes in contact with. Reach her here bprice@diocesan.com.
Feature Image Credit: Sharath Kumar Hari, https://unsplash.com/photos/Mb2LErousEY