"Mary, make me love your Son Jesus as the Principle behind all things, not with a fear that paralyzes and discourages, but with a love that knows no limits.  ~ Blessed Concepción Cabrera de Armida
Today is the feast of Our Lady of Guadalupe who appeared to St. Juan Diego asking him to build a church in her honor in 1531. As a teacher, I'm blessed to teach a Spanish course that includes quite a bit of history. Since I teach at a public school, I teach the story of Our Lady of Guadalupe and St. Juan Diego from a historical point of view. I like to believe, however, that my conviction is somehow communicated through my teaching. The timing of the class works out perfectly and has aligned two years in a row with the feasts of St. Juan Diego and Our Lady of Guadalupe. We are currently learning about the establishment of New Spain (Mexico), the development of a new, syncretic culture, and the causes leading up to the Mexican Revolution. Last year, the day we learned about the importance of Our Lady in the evangelization of New Spain was December 12th and one of my students endearingly said, "Miss! Did you know that today is Our Lady's birthday?!" It may not be a fully accurate understanding of the feast we celebrate today but it certainly made my heart happy to hear.
There are a few options for today's readings. You might hear from the Prophet Zechariah of God's promise to dwell among us and that "Many nations shall join themselves to the Lord on that day". The appearance of Our Lady to St. Juan Diego in Mexico is a fulfillment of that promise. Her appearance caused the conversion of an estimated 9 million people to the Catholic faith in less than 10 years. St. Juan Diego shared his faith with the bishop of Mexico and, in turn, served as an example of faith to his own people.
It is possible that you will hear Luke's account of the Visitation in which Elizabeth says, "And how does this happen to me, that the mother of my Lord should come to me?" I would imagine that St. Juan Diego's response to Mary's apparition was the same if not more shocked. I try to put myself in his shoes and imagine myself on my way to Mass and having the great honor and privilege of being face-to-face with our Holy Mother. People, like Elizabeth and Juan Diego, who came in direct contact with Mary and recognized that she was carrying our Savior in her womb are examples of the humility and admiration with which we should approach our Blessed Mother.
In the same way that she changed the hearts of the people of Mexico in the 1500s, may we allow Our Lady to enter our hearts and cause continual conversion. May we follow the examples of Our Lady of Guadalupe and St. Juan Diego in their whole-hearted "yeses" to God and His will.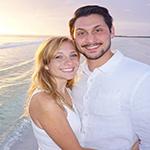 Dakota currently lives in Denver, CO and teaches English Language Development and Spanish to high schoolers. She is married to the love of her life, Ralph. In her spare time, she reads, goes to breweries, and watches baseball. Dakota's favorite saints are St. John Paul II (how could it not be?) and St. José Luis Sánchez del Río. She is passionate about her faith and considers herself blessed at any opportunity to share that faith with others. Check out more of her writing at https://dakotaleonard16.blogspot.com.
Feature Image Credit: demetrio, https://www.cathopic.com/photo/441-pintura-basilica-angeles