It is dark as I leave home for 7:15am Mass. The sun will be setting as I leave work to go back home this evening.  Without the aid of my headlights it is hard for me to really see what is right in front of me let alone farther down the road. The darkness envelops everything. I need light to navigate my way on the physical road as well as in my emotional and spiritual life journey.
The readings today highlight this need of illumination. The First Reading tells us that God teaches us what is for (our) good. The Psalm tells us, "Those who follow you, Lord, will have the light of life." Jesus tells us in the Gospel that, we called to you but you didn't come. "We played the flute for you, but you didn't dance… [we] came eating and drinking" and you called us names and scoffed at us.
"Every time we sin, we become less human," said Fr. Dan Crosby, OFM Cap in a recent homily. When we elevate ourselves, make fun or take advantage of others, we are placing a veil or, when there are many veils, a curtain between us and God. That sin blocks and takes us away from the Light of Life.
#1691 of the Catechism of the Catholic Church states, "Never forget that you have been rescued from the power of darkness and brought into the light of the Kingdom of God." When you stay in the light you will be able to see the kingdom and find peace or Shalom.
I pray you will experience a deep peace of the Kingdom of God during this Advent season while you wait and prepare for our Lord's coming.
A Celtic Blessing:
Deep peace of the running wave to you
Deep peace of the flowing air to you
Deep peace of the quiet earth to you
Deep peace of the shining stars to you
Deep peace of the gentle night to you
Moon and stars pour their healing light on you
Deep peace of Christ the light of the world to you
Deep peace of Christ to you.
Amen.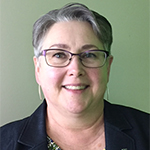 Beth Price is part of the customer care team at Diocesan. She brings a unique depth of experience to the group due to her time spent in education, parish ministries, sales and the service industry over the last 25 yrs. She is a practicing spiritual director as well as a Secular Franciscan (OFS). Beth is quick to offer a laugh, a prayer or smile to all she comes in contact with. Reach her here bprice@diocesan.com.
Feature Image Credit: Dave Hoefler, https://unsplash.com/photos/jH42L-P2CqA