Eve and Mary were similar in a lot of ways. They were both created without sin. They were both daughters of covenants, under which they pledged obedience. They were both visited by a supernatural being.
It is easy to look at Eve and think that original sin and the fall were all her fault. After all, she is the one who listened to the serpent and took the bite of the forbidden fruit. She is the one who convinced Adam to try it, too. Curse her womanly wiles. However, we fail to realize that nowhere in Scripture does it say that the serpent cornered Eve alone. We tend to think that he lured her away somehow to get her away from Adam's protection in order to tempt her. But if we look at the Genesis account, it actually reads, "She took some of its fruit and ate it; and she also gave some to her husband, who was with her, and he ate it."
Therefore, we see that the serpent truly was the most cunning of all the creatures. He targeted Eve, and Adam was right there. Yet he did nothing to dissuade her or protect her vulnerability.
Which brings us to Mary, a lowly handmaiden from small-town Nazareth. She did nothing to draw attention to herself, and yet now she alone is revered as Queen of Heaven and Earth.
Eve said no to God's plan, but Mary said yes. She said yes to the disgrace that would ensue as news of an unmarried, pregnant teen got out. She said yes to giving up her body as a vessel for the Son of God. She said yes to raising that boy, and then letting Him leave to fulfill His earthly mission. She said yes to what she could not yet know – that she would one day have to watch her baby boy die a horrendous death on a Cross in front of mockers and evildoers.
If you have never gotten the chance, I HIGHLY recommend that you read Pope St. John Paul II's Letter to Women. It is a reflection on womanhood and the feminine genius that is unparalleled.
"The Church sees in Mary the highest expression of the "feminine genius" and she finds in her a source of constant inspiration. Mary called herself the "handmaid of the Lord" (Lk 1:38). Through obedience to the Word of God she accepted her lofty yet not easy vocation as wife and mother in the family of Nazareth. Putting herself at God's service, she also put herself at the service of others: a service of love. Precisely through this service Mary was able to experience in her life a mysterious, but authentic "reign". It is not by chance that she is invoked as "Queen of heaven and earth". The entire community of believers thus invokes her; many nations and peoples call upon her as their "Queen". For her, "to reign" is to serve! Her service is "to reign"!
Why did Satan target the woman in the Garden? Because he knows that women are special. He knows that women are powerful. We alone have the ability to carry and sustain life in our own bodies. But he did not know that one day a woman would change the course of history.
"Necessary emphasis should be placed on the 'genius of women', not only by considering great and famous women of the past or present, but also those ordinary women who reveal the gift of their womanhood by placing themselves at the service of others in their everyday lives. For in giving themselves to others each day women fulfill their deepest vocation. Perhaps more than men, women acknowledge the person, because they see persons with their hearts. They see them independently of various ideological or political systems. They see others in their greatness and limitations; they try to go out to them and help them. In this way the basic plan of the Creator takes flesh in the history of humanity and there is constantly revealed, in the variety of vocations, that beauty – not merely physical, but above all spiritual – which God bestowed from the very beginning on all, and in a particular way on women." (JP II, Letter to Women).
That, my friends, is feminism at its truest and purest self.
That is what we celebrate today. That our God inserted Himself into our human history by taking on the lowliness of our flesh and bones, for our sake. That He chose a woman as His vessel. That He pre-redeemed her from the moment of her conception in Anne's womb, by grace of His sacrifice on Calvary. That He ordained her as the ultimate example of femininity, beauty, purity, grace, and surrender.
This is why we elevate Mary to the highest place of all the Saints: not because of anything she did on her own, but because the level of intimacy that she had with our God was so pure that it, by default, made her immaculate.
So, in conclusion, Mary and Eve are very similar. But they also differ at a fundamental level.
Eve's name means the "mother of all living", because from her descended the human race. At the foot of the Cross, Mary became the "mother of all who truly live" when Jesus gave His mother to the Church.
Eve's disobedience resulted in the fall into sin of the entire human race. The result was death – physically and spiritually. Mary's obedience to God resulted in Christ's redemption of the entire human race. The result was eternal life.
Thus, the Church Fathers confidently say, "The knot of Eve's disobedience was untied by Mary's obedience: what the virgin Eve bound through her disbelief, Mary loosened by her faith. Death through Eve, life through Mary."
Ultimately, Eve said no. But Mary said yes.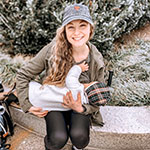 Sarah Rose hails from Long Island and graduated from Franciscan University in 2016 with a Bachelor's in Theology & Catechetics. She is happily married to her college sweetheart John Paul. They welcomed their first child, Judah Zion, in 2019. She is passionate about her big V-vocation: motherhood, and her little v-vocation: bringing people to encounter Christ through the true, the good, and the beautiful. She loves fictional novels, true crime podcasts/documentaries, the saints (especially Blessed Chiara Luce Badano), & sharing conversation over a good cup of coffee. She is currently the Coordinator of Young Adult Ministry at St. Cecilia Church in Oakley, Cincinnati. You can find out more about her ministry here: https://eastsidefaith.org/young-adult OR at https://www.facebook.com/stceciliayam.
Feature Image Credit: Mary and Eve by Sr. Grace Remington, OCSO, https://illustratedprayer.com/2017/12/05/mary-comforts-eve/. Used with Permission.