We hear the hope of the Advent season in the readings today.  In the Gospel we hear of Christ's immense compassion for human suffering:  "At the sight of the crowds, his heart was moved with pity for them because they were troubled and abandoned, like sheep without a shepherd."  Out of compassion for those who were suffering, Christ sends out the twelve to care for the lost sheep of Israel. They drive out unclean spirits, cure every disease and illness, raise the dead, and cleanse the lepers. The most vulnerable in society are cared for and healed.
Through His compassion and through the mission on which he sends the Apostles, Christ is fulfilling the words of the first reading from Isaiah. The prophet tells us: "O people of Zion, who dwell in Jerusalem, no more will you weep; He will be gracious to you when you cry out, as soon as He hears He will answer you." Christ sees our loneliness and suffering; He sees that we have been abandoned, that we have felt hopeless, and responds to our cries for help with compassion.
The season of Advent promises many things: the birth of our Savior, hope, peace, joy, the fulfillment of God's Kingdom. However, we are only able to have faith in those promises by drawing close to the heart of Christ, by sharing in His compassion, and by following His words. This is a season of preparation. Not only are we preparing for the birth of our Savior but also for His second coming. Bearing that in mind, Advent should be a time in which we cling to the words of Christ whole-heartedly, that we go out into the world, as the Apostles did, serving the most vulnerable.
In this time of Advent, as we prepare for the birth of our Savior, let us not forget those who are troubled or abandoned.  May we invite them into our hearts and homes with compassion, care, and joy in imitation of Christ and the Apostles.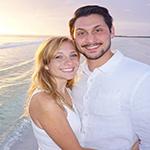 Dakota currently lives in Denver, CO and teaches English Language Development and Spanish to high schoolers. She is married to the love of her life, Ralph. In her spare time, she reads, goes to breweries, and watches baseball. Dakota's favorite saints are St. John Paul II (how could it not be?) and St. José Luis Sánchez del Río. She is passionate about her faith and considers herself blessed at any opportunity to share that faith with others. Check out more of her writing at https://dakotaleonard16.blogspot.com.
Feature Image Credit: Mel Poole, https://unsplash.com/photos/LUPXhXj2ip0