Those of us who are naturally risk-averse might feel a little uncomfortable with today's Gospel. After all, isn't it safer not to take the chance of losing the talent?
As I reflected more on this passage, along with the rest of the readings for this Sunday, I came to see this parable is not so much about risk taking. It is about letting trust overcome fear, and whether our focus is on our own interests or on God's.
In the servant with one talent, I see reflected my own tendency to calm my fears by trying to control any and all situations. As the master pointed out, if this servant was simply uncomfortable with taking risks, he could have put the talent in the bank. This action of burying the talent seems more an act of trying to control the situation: I can keep an eye on it, no one knows where it is, the Master can't blame me for losing his talent or making a foolish investment. With his inaction, he made his fear about his own wellbeing his top priority. In his failure to try, he betrayed his lack of trust in his master and in himself, and on top of that, he literally insulted his master when asked why he did what he did.
Now contrast this servant to the "worthy wife" in the First Reading, and the "children of the light" in the Second Reading. They are alert, work hard, and actively seek to do God's will. They are able to see beyond themselves. Instead of focusing only on their own condition, they can see clearly beyond themselves and reach out in generosity to those who are in need. They are "to be praised"–all the more so because they are seeking God's will, not praise.
Clearly, God does not call us to be reckless. After all, prudence is one of the cardinal virtues. However, when we fail to take action out of fear, we show a lack of trust in God and the talents He gave us. May God grant us the courage to overcome fear of failure and blame, that we may offer Him something in return for the gifts He gives us.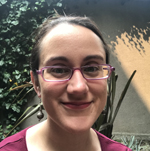 J.M. Pallas has had a lifelong love of Scriptures. When she is not busy with her vocation as a wife and mother to her "1 Samuel 1" son, or her vocation as a public health educator, you may find her at her parish women's bible study, affectionately known as "The Bible Chicks."