Today the Church celebrates St. Frances Xavier Cabrini. Mother Cabrini was the first citizen of the United States to become a saint. She worked with immigrants, established schools and hospitals, and served the poor and neglected. The readings are a fitting tribute to her and her way of life. Mother Cabrini was dedicated to service through love. She and the Missionary Sisters worked tirelessly at the turn of the 20th century, which was a time of many challenges.
The readings today are challenging. The longer I have prayed with them, the more unsettled I've become. Why? It's because of the times in my life that I know I haven't had my focus on the law of Love from our Lord and Savior.
All the times I've been judgmental towards some folks or dismissed issues which may not have directly affected me but have had negative consequences on others or my surroundings, is part of my conscious awareness of what I have done and failed to do in the eyes of the Lord.
I must be very intentional in what I say and do. The readings today drive home the point that intentions should be of the Love the Lord commanded and Christ sacrificed loving all humanity. I have to choose Love in every situation. I don't want to be like one of the people lost in the flood during the time of Noah, or like Sodom, or Lot's wife as is written in the Gospel
The Catechism of the Catholic Church tells us in #1604…"God who created man out of love also calls him to love – the fundamental and innate vocation of every human being."
To choose Love, is not the easy way. It is intentional, this call to Love. It is the way of truth. It is the way to the Father, through Jesus Christ, to redemption.
Read the following lines. Take them into your prayer while looking at them through the eyes of a different examination of conscience.
I choose to LOVE. I choose to have Empathy. I choose Inclusion. Compassion. Equality. Dignity. Diversity. I choose Community. Kindness. Integrity. Honesty. Respect. I choose Justice. I choose Facts. Peace. I choose the Planet. I choose Humanity.  I choose LOVE.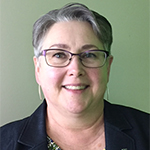 Beth Price is part of the customer care team at Diocesan. She brings a unique depth of experience to the group due to her time spent in education, parish ministries, sales and the service industry over the last 25 yrs. She is a practicing spiritual director as well as a Secular Franciscan (OFS). Beth is quick to offer a laugh, a prayer or smile to all she comes in contact with. Reach her here bprice@diocesan.com.