We have all heard the story from today's Gospel. Of course God wants to go after the one out of the ninety-nine. We have all heard that Christ is the Good Shepherd. But I want to focus on something in this Gospel that may be easily overlooked, the very first line.
We hear that the tax collectors and sinners were all drawing near to Jesus. Why was this, do we think? What drew them to Jesus? Was it his preaching, his miracles, the way he presented himself? It could have been a mix of any number of reasons, but I think it may have been that they could see he was different. He actually wanted to help them. He cared deeply about them.
Notice, they didn't gather around him to be validated in their own sins, but even when Christ challenged them they continued to come back. They could see that he had their actual best interest at heart.
I think this example of evangelization is crucial for our world today. We tend to either dumb down the Gospel so much that it no longer has meaning or we want to hit people with it as if it's a two by four with rusty nails sticking out.
Here, Jesus shows us the approach that is effective and gets to the heart of those we interact with. It's the same as the story of the woman caught in adultery. He cared for her, loved her, showed her mercy, but then said to go and sin no more. That must have seemed like a simple and small request for the woman, seeing as her life was just spared.
Do we use the same approach when preaching the good news? Is it first good news? Do we find out about our friends, family, coworkers, and others before we try to evangelize? Classics are classics for a reason. And the classic way of evangelizing that Jesus used, seems like it may just still work. From all of us here at Rodzinka Ministry, God Bless!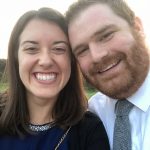 Tommy Shultz is the Founder/Director of Rodzinka Ministry and the Director of Faith Formation for the North Allegan Catholic Collaborative. In these roles, he is committed to bringing all those he meets into a deeper relationship with Christ. Tommy has a heart and flair for inspiring people to live their faith every day. He has worked in various youth ministry, adult ministry, and diocesan roles. He has been a featured speaker at retreats and events across the country. With a degree in Theology from Franciscan University, Tommy hopes to use his knowledge to help all people understand the beauty of The Faith. Contact Tommy at tommy@rodzinkaministry.com or check out his website at rodzinkaministry.com.