As I slid into the pew and knelt down to prepare my heart for Mass, I saw something out of the corner of my eye. Glancing over to the sill of the stained glass window, I noticed several picture frames holding images of unknown individuals. Some were black and white, some looked fairly recent, but one thing I knew for sure, they were all no longer with us. It was the month of November and my parish had invited everyone to bring in images of their deceased loved ones. It was a time to pray for the souls of those still in purgatory.
Fast forward to a different year in a different state and I found myself in a cemetery setting up chairs. The Hispanic community would celebrate Mass outside among the graves. Tables lined the edges of the seating area and these people were also bringing in images of their loved ones. But this time, they also brought decorations, food, flowers, candles, toys, dolls and sometimes even painted skulls. What an incredible tradition! So different from what many of us are used to, "El Día de Muertos" is more a day of celebration than of mourning.
After Mass was over, we shared a meal of tamales, horchata (warm rice milk with cinnamon) and pan de muertos (bread of the dead). Those present recalled anecdotes of their relatives and friends and shared the foods they once enjoyed the most. The wind was brisk and the day was chilly, so not many lingered, but the ceremony was definitely memorable.
How will you chose to spend All Souls Day today? As you pray for the souls of your beloved departed, do you mourn them still or will you celebrate their past life on earth as well as their new life in heaven. For most of us, it will be a little bit of both. We cannot help but be sad that we can no longer physically spend time with them, but we rejoice that "He will wipe away every tear from their eyes, and there shall be no more death or mourning, wailing or pain, for the old order has passed away." (Rev 21:4)
Our readings today grant so much comfort. "The souls of the just are in the hand of God…they are in peace…they shall be greatly blessed, because God tried them and found them worthy of himself…and the faithful shall abide with him in love…" (Wis 3) Our Catholic Faith gives us so much hope. Paul proclaims such an amazing truth: "For if we have grown into union with him through a death like his, we shall also be united with him in the resurrection." Did you hear that? We will rise again! And so will our loved ones.
So may this day be one where our mourning is turned into dancing because of God's great promise to us.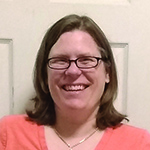 Tami Urcia grew up in Western Michigan, a middle child in a large Catholic family. She spent early young adulthood as a missionary in Mexico, studying theology and philosophy, then worked and traveled extensively before finishing her Bachelor's Degree in Western Kentucky. She loves tackling home improvement projects, finding fun ways to keep her four boys occupied, quiet conversation with the hubby and finding unique ways to love. She works at Diocesan, is a guest blogger on CatholicMom.com and BlessedIsShe.net, runs her own blog at https://togetherandalways.wordpress.com and has been doing Spanish translations on the side for almost 20 years.