"Be like people waiting for their master to return from the wedding feast, ready to open the door as soon as he comes and knocks."
Weddings are wonderful events, celebrations when we somehow are able to set aside the past and hope for the future of a couple with whom we have in some way shared the journey of life.
However…
What would be some reasons why a wedding feast wouldn't be a joyous celebration?
Think about it for a minute…
I'll name a few hypothetical reasons why we may not be thoroughly and completely delighted at a wedding feast:
The bride has a more beautiful wedding dress than I did.
The wedding feast is larger than what my spouse and I would be able to have.
I don't approve of the marriage.
I'm worried about the future of the couple.
I wish I could be that happy in public like the groom. Instead I shrink with fear or shame for some reason I can't understand.
My marriage or vocational choice has gone through the wringer with sorrows and setbacks. It's not fair that they have everything going for them.
I have been slighted or hurt or unjustly treated by one of them and hope they get what they deserve.
Whoa. Suddenly the feasting is no longer shining with joy. It is distorted and darkened with jealousy or fear or anger or…
…Or hurt…
In the Gospel today Jesus tells us to be like people waiting for their master to return from the wedding feast. He says they should have their belts done up and their lamps lit, that is to be actively getting ready for his return.
So what are some reasons why we may not be actively, excitedly preparing ourselves for the Lord's coming?
Here are some hypothetical possibilities…
I've lost a child and no matter how much I prayed, God did nothing.
My life hasn't turned out the way I had hoped.
Others have gotten ahead of me and I resent that I'm not more talented, more positioned for success, more wealthy.
Trauma in my early years has left me struggling to trust, to hope, to love anyone and even God himself. I've shut down to protect myself.
I can't remember the last time I was happy.
My experience of love in my formative years was conditioned on my good behavior or good grades. I never seem good enough for God. I can't believe he would love me.
I pray but I don't think God listens to me.
I think that God will come to punish me. I'm not even sure there is a place for me in heaven. I'm still worried about something I did when I was a teenager and if God has forgiven me.
Something similar lies at the root of both of these hypothetical lists.
Hurt.
The wounds we have sustained in life deeply affect us…at the level of the heart. We certainly get absorbed in the thoughts and memories and feelings that swirl within us on a conscious level. Just think of these hypothetical situations and all the drama that they create within a person and in relationships. Our small mind's antics are just ways to distract us from the utter pain we each carry in some way in our deeper heart, pain from past wounds accumulated over the years.
Friend, I encourage you to hold that hurt and honor that wound. Know that deeper than the wound itself, however, is the spark of God's in-pouring love that sustains your life on every level. We all have to struggle with the small-minded antics that get played out within us and which drive us then to act in small-minded ways. Hurt does that. The readings today, however, call us to look deeper. To actively seek to hold up the lamp in the dark begging for God to show us his face. To reveal how through all the pain we "in him are being built up into a dwelling-place of God in the Spirit."
It begins with being aware of what is holding us back, what is small-minded and pain-filled and welcoming both the wound and the healing. As the wound heals, the light is released and the delicious joy of the wedding feast invades our life, pushing away the small-minded narrowness with the amazing discovery of Jesus' promise: "In truth I tell you, he will do up his belt, sit them down at table and wait on them."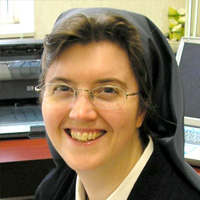 Kathryn James Hermes, FSP, is the author of the newly released title: Reclaim Regret: How God Heals Life's Disappointments, by Pauline Books and Media. An author and spiritual mentor, she offers spiritual accompaniment for the contemporary Christian's journey towards spiritual growth and inner healing. She is the director of My Sisters, where people can find spiritual accompaniment from the Daughters of St. Paul on their journey. Website: www.touchingthesunrise.com Public Facebook Group: https://www.facebook.com/groups/srkathrynhermes/ For monthly spiritual journaling guides, weekly podcasts and over 50 conferences and retreat programs join my Patreon community: https://www.patreon.com/srkathryn.