I don't remember the exact path of the conversation but the Fruits of the Spirit came up and my daughter who was 17 or 18 at the time rattled them off as one word, ending with "self-control oh oh!" After I stopped laughing (because who expects their teen to know the fruits let alone sing them), I gave a little thank you to God for both Catholic education and this amazing girl he allowed me to be the mother of. My daughter quickly directed me to a YouTube video of the song she was singing and I quickly learned that the fruits of the Spirit aren't a banana, a watermelon, or a lemon. They are love, joy, peace, patience, kindness, goodness, faithfulness, gentleness and self-control.
These are important virtues for us to strive for and are needed now. Paul warns the Galatians of the works of the flesh and sadly these are still present in our world today: immorality (abortion), impurity (sex outside of marriage), idolatry (spending more time pursing money than Jesus), hatred and rivalry (it's an election year), outbursts of fury (violence and looting), acts of selfishness (so many examples), dissensions and factions (lack of civil discourse). Paul is very clear what the consequences are: "those who do such things will not inherit the Kingdom of God" (Gal 5: 21). This is where we may say "whoa! too far. Are you saying these people are going to hell?" Well, it kinda reads that way.
Our job as Catholics is to avoid that list of things and focus on the fruits by keeping our gaze on Jesus. We can put the fruits of the Spirit into action not only pro-actively but reactively as well. Just because we are surrounded by immorality, selfishness, and division doesn't mean we have to join in. We can pray for others and avoid getting sucked in.
We can fight against the evil of abortion through how we vote. We can leave work at a reasonable hour to spend time with our families or go to Mass on our lunch break. We can respond to those who disagree with us with patience and self-control.
Sometimes I get frustrated that I can't change the world but then God gently reminds me that it's not my job to do that. I can change me and how I interact with the world. It may be a tiny ripple but it is important. If each of us commits to living our lives with the fruits of the Spirit, there will be a lot of little ripples that, I believe, will one day create a wave. So don't be a banana, be a fruit of the Spirit.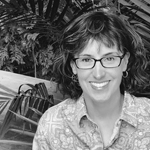 Merridith Frediani's perfect day includes prayer, writing, unrushed morning coffee, reading, tending to dahlias, and playing Sheepshead with her husband and three kids. She loves finding God in the silly and ordinary. She writes for Ascension Press, Catholic Mom, and her local Catholic Herald in Milwaukee. Her first book Draw Close to Jesus: A Woman's Guide to Eucharistic Adoration is expected to be released summer 2021. You can reach her at merridith.frediani@gmail.com