Pride comes before a fall, the old saying goes.
When we succumb to pride, we find ourselves insisting that our way is the right way. Over time, we might come to find, like Paul and Martha, that we were actually working against God, and our failure to humbly and honestly examine ourselves has led us down that path.
In the First Reading, Paul is looking back on how he thought that, by persecuting the early Church, he was nobly defending the faith of his fathers. In reality, he was actually fighting against the God of his fathers.
Martha thought she was doing the right thing by busying herself with serving and being a good hostess. In reality, she was quite literally failing to listen to the words of Jesus, and asking her sister to do the same.
One of the antidotes to this type of stubborn pride comes in today's Psalm: "Guide me Lord on the everlasting way". If we turn to God and ask him to guide us, it helps prevent us from unwittingly working against God.
Fortunately, both Paul and Martha changed their ways. Paul became a great defender and preacher of the Faith. The wiser Martha of John 11 goes out to meet Jesus and has confidence in Him as the Messiah.
So as we reflect on today's readings, let us pray that God will guide us on His everlasting path, and give us the humility to see when we have veered off it.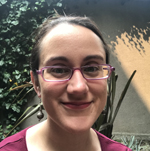 J.M. Pallas has had a lifelong love of Scriptures. When she is not busy with her vocation as a wife and mother to her "1 Samuel 1" son, or her vocation as a public health educator, you may find her at her parish women's bible study, affectionately known as "The Bible Chicks."