"The splendor of the rose and the whiteness of the lily do not rob the little violet of its scent nor the daisy of its simple charm. If every tiny flower wanted to be a rose, spring would lose its loveliness."
This is one of my favorite quotes from St. Therese. We celebrate her feast day today.
By all intents and purposes, Therese was not on the trajectory to be a Doctor of the Church. She was a spoiled, youngest child. She got what she wanted, when she wanted. She was raised by, and alongside, literal Saints who adored her and waited on her hand and foot. Yet, little Therese learned too soon what it meant to suffer: she lost her mother at a young age, fell deathly ill, and said goodbye to each of her sisters as they entered the convent. Therese grew up with a holy boldness that women everywhere could learn from: she believed in her vocation and she fought for it, all the way up to Rome.
Therese goes against everything our modern society equates with power, yet she is one of the most revered female Saints in the Catholic Church. She never traveled the world; she never found a cure for cancer or invented a new technological advancement. In her quiet cloister in the sleepy town of Lisieux, before she even reached the age of 25, Therese changed the face of morality. She was simply herself; she didn't try to be anyone else. She modeled the great paradox: we can accomplish great deeds in our littleness. She paved a way for us to strive for holiness by doing everyday activities with love.
From the Little Flower of Lisieux, we learn the vital importance of rejecting the lie from Satan that we have to accomplish great things (in the eyes of the world) to achieve greatness. We learn to reject the lie that we have to attain a certain degree of social status or age in order to be a Saint. And we learn that, in the end, it matters little what we do, but that it was done in love.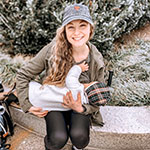 Sarah Rose hails from Long Island and graduated from Franciscan University in 2016 with a Bachelor's in Theology & Catechetics. She is happily married to her college sweetheart John Paul. They welcomed their first child, Judah Zion, in 2019. She is passionate about her big V-vocation: motherhood, and her little v-vocation: bringing people to encounter Christ through the true, the good, and the beautiful. She loves fictional novels, true crime podcasts/documentaries, the saints (especially Blessed Chiara Luce Badano), & sharing conversation over a good cup of coffee. She is currently the Coordinator of Young Adult Ministry at St. Cecilia Church in Oakley, Cincinnati. You can find out more about her ministry here: https://eastsidefaith.org/young-adult OR at https://www.facebook.com/stceciliayam.