When I was a child preparing for my first confession, it seemed to me that Jesus had "superpowers" in the Gospel stories I heard. I was amazed that the people walking down the street at the same time as Jesus saw an ordinary man, and they would even argue with him. But then he would, like all superheroes, engage his superpowers at just the right time, and in just the right way. His power is never destructive or, well, overpowering, but it is dazzling just the same.
In today's Gospel, Jesus uses several of these powers. The Pharisee says something to himself – thinks something in his mind – and Jesus REPLIES to his thought! Not in a condescending or reprimanding way, but in an inviting way. He asks a question so that Simon can think a NEW thought, if he chooses. Jesus knows that his thought is negative and judgmental: "Doesn't Jesus know what kind of woman this is?" In place of that, Jesus gently encourages the Pharisee to look beyond superficial appearances and look to the heart. In place of judgment, Jesus encourages the Pharisee to understand mercy. The Pharisee is busy mentally condemning the sinful woman and Jesus' lack of prudence, and Jesus gently points out that in many ways, the woman is more generous and loving than the Pharisee.
Jesus expresses another "superpower" in this scene when he turns to the woman and tells her that her sins are forgiven. The others at the table are astonished at this bold statement. How can he forgive sins?! Only God can forgive sins! Exactly. Jesus is making clear Who He Is, if they will accept it. He is here to "make all things new" – our hearts and minds, our actions and our relationships. He is here to heal and enlighten and invite each of us to a new thought, a new way of seeing, a new way of being.
In the Church, He does this in a direct way through the sacraments. We are baptized into the Body of Christ, into his very life in the Trinity. We become one with him when he gives himself entirely to us – and we give ourselves entirely to him – in the Eucharist. And when we fall short, like the woman who was a sinner, we go to the confessional where he says the same words to us that he said to her: "Your sins are forgiven…go in peace." These are the words that free us anew and set us on a renewed path. Let us pray to be filled with the same loving gratitude for the gift of mercy and peace that emboldened the sinful woman to weep at Jesus' feet and cover them with kisses and precious ointment!
Jesus, I trust in You!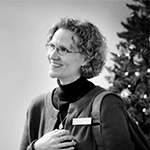 Kathryn Mulderink, MA, is married to Robert, Station Manager for Holy Family Radio. Together they have seven children (including newly ordained Father Rob and seminarian Luke ;-), and two grandchildren. She is a Secular Discalced Carmelite and has published five books and many articles. Over the last 25 years, she has worked as a teacher, headmistress, catechist, Pastoral Associate, and DRE. Currently, she serves the Church as a writer and voice talent for Catholic Radio, by publishing and speaking, and by collaborating with the diocesan Office of Catechesis, various parishes, and other ministries to lead others to encounter Christ and engage their faith. Her website is https://www.kathryntherese.com/.