Me: "Hi, Sweetie, can I help you find a spot?"
Second Grade Sweetie: "I know why you call me Sweetie."
Me: (feeling slightly panicked) "Why?"
Second Grade Sweetie: "You can't remember my name."
As a teacher, I hang with kids. A lot. I am very familiar with the awkward moments when children, from the purity and authenticity of their hearts, call us adults out. We think we are being polite or socially smart, and they call us right out. They can take one look at us and know if that smile on our face is genuine. And they don't mind telling us.
Jesus calls us to love our enemies. My husband and I have an oft repeated conversation about the relationship between love and like. Jesus calls us to love our enemies. He doesn't say one word about liking them. Liking someone relies on our emotions. It is how we feel about them. St. Thomas Aquinas defines love as willing the best for the other. Love is an act of our will. It isn't simply happy-smilely hearts and flowers, it is a choice, a decision to act in the best interest of another.
Jesus takes us outside our fickle emotions. It is easy to love those who love us first. It is easy to want the good for those who want the good for us. What is much, much harder is to will the good for those with whom we disagree, those who act in ways we don't choose to act.
We can't simply be nice either. It is impossible to keep the Lord's commandment to love by only imitating the divine model. (CCC 2842) Although initiating the actions of Jesus is a good first step, love isn't simply what we do on the outside. There has to be a vital participation from the depth of the heart. We aren't just called to do the right thing. We are called to allow ourselves to be molded into the image of the one who is goodness, truth, and beauty. That means our hearts of stone have to become living hearts formed "in the holiness and the mercy and the love of our God". We have to be authentic in our love.
The first reading guides us in what this looks and sounds like. The Corinthians had become caught up in worrying about the right and wrong way of doing things. Among the debates was whether or not it was acceptable to eat the meat offered to the pagan idols. Paul's response doesn't worry too much about the idols, false gods are no god at all, so what does it matter? What matters is the result of their actions. If eating the meat leads another into sin, therein lies the problem. Paul is incredibly blunt, if eating the meat causes another to sin, then he won't just give up the meat offered to the idols, he will give up all meat. Loving those who believe differently from us, acting for the good of another is that important.
Sacrificing meat to idols isn't an issue we see today, but we see many other idols in our society. It is easy to find examples of the idols of fame, wealth, and worldly success. We see around us those who sacrifice their families, their sense of self, their time, their bodies. There are plenty of divisions in our world. There is plenty of pressure to be part of "us" and not "them". First Jesus and then St. Paul, guide us to act outside of all that. If our actions lead another to sin, then it is time we change how we act. We are called to allow the Holy Spirit to work on us from the inside out so that when we love, it is authentic. It is a love which wills the good of the other, and is willing to work for that good.
My prayer for us today is that we may love like little children so our smiles reflect our hearts, and our insides and outsides may both be formed by the Holy Spirit in the holiness, mercy, and love of God. May God bless you.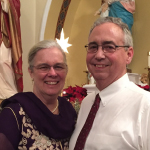 Sheryl O'Connor delights in being the number 1 cheerleader and supporter for her husband, Tom who is a candidate for the Permanent Diaconate in the Diocese of Kalamazoo. They are so grateful for the opportunity to grow together in this process whether it is studying for classes, deepening their prayer life or discovering new ways to serve together. Sheryl's day job is serving her community as the principal for St. Therese Catholic School in Wayland, Michigan. Since every time she thinks she gets life all figured out, she realizes just how far she has to go, St. Rita of Cascia is her go-to Saint for intercession and help. Home includes Brea, a Bernese Mountain dog and Carlyn, a very, very goofy Golden Retriever.