Today's first reading is a struggle – warning others, speaking out against faults and wrongdoings, being brave rather than cowardly. I have always been one who prefers shying away from confrontation. There is so much to be overwhelmed by in today's world: from politics and racial tensions to the sick and the poor, it is much easier to look the other way and ignore all the injustices and wrongdoings surrounding us.
When I was younger, I would toss and turn at night over worries such as being rejected by a crush. I would never put myself out there. Not in a million years. To this day, even with my closest loved ones, I frequently struggle with the same fears of rejection. This is not the least evident in my religious faith. Wearing a t-shirt with a faith-based message, or reminding my family about our Sunday obligation, I struggle with accepting it if I'm laughed at or ridiculed.
While having the courage to speak up can be scary, it's often meant to come from a place of love, not of shame or of proving one is right. Today's second reading tells us to love each other; that love is "the fulfillment of the law." So to follow the law, we need to speak out from a place of love when we see something wrong.
Also, when we love someone, we want what's best for them. Sometimes this means shining a light on a hard truth that one needs to accept, or the reality that they need to do something difficult to find peace and grow. When our confrontation comes from wanting the best for someone, we might be able to reframe it as an act of charity and grace rather than as a scary thing, making it easier for us to follow through and "put ourselves out there."
Finally, confrontation can even involve self-reflection, recognizing our own faults and sins. "Hardening not our hearts" against His voice helps refine our love for Christ. The Litany of Humility (https://www.ewtn.com/catholicism/devotions/litany-of-humility-245) has always helped keep me grounded. Christ reminds us that it is the lowest of the low who will be first in His kingdom. We are taught over and over the importance of loving others rather than seeking that love that we desire instead for ourselves.
Ultimately, we must never be afraid to break open our hearts in front of others for Christ. The life of a Christian is often going to be messy. If we're not suffering alongside Christ, we are not giving our all to Him. We must take up our cross, and not hold back nor be ashamed. The Lord is worth so much more than the sum of our fears and doubts. And in the end, He does not demand much at all.
Solely, "You shall love your neighbor as yourself."
(co-written by Samantha Costanzo Carleton)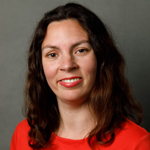 Dr. Alexis Dallara-Marsh is a board-certified neurologist who practiced in Bergen County, NJ. She is a wife to her best friend, Akeem, and a mother of two little ones on Earth and two others in heaven above.