Today's Gospel reading can be summed up in this warning: "Beware the paparazzi!" Of course, 99% of us aren't that high profile that we have to worry about a crowd of photographers chasing after us to document our every move in order to sell the photos to media outlets for thousands of dollars. Instead we have interior paparazzi in our hearts. We snap virtual photos of us in the form of memories that we hold up like mirrors in order to admire ourselves.
"Just look at me!" "Wasn't that good of me to do?" "See how I dealt with that situation?" "How holy I look when I'm praying…."
Is everyone noticing me?
The scribes and Pharisees had fallen into the danger that is ever-present for anyone who sincerely wants to be a good person. As Simon Tugwell, OP put it, "The danger with our good works, our spiritual accomplishments, and all the rest of it, is that we shall construct out of them a picture of ourselves in which, effectively, we shall situate our happiness. Complacency in ourselves will then replace delight in God."
One can imagine individuals to whom Jesus is referring going home at night gazing at their own contentment, reliving every inch of footage from the day, admiring themselves from every angle.
"All their works are performed to be seen. They widen their phylacteries and lengthen their tassels. They love places of honor…and the salutation 'Rabbi.'"
Jesus advises the crowds to turn their attention away from themselves and from authorities on this earth who can look at us approvingly and mentor, shape, and guide our lives to God in their own images.
You have only one Father in heaven. You have but one master, the Christ.
If our eyes are on our Father, we re-assume our proper place before him as creature. "The greatest among you must be your servant."
It is little children who do not self-consciously admire themselves as they carry on the drama of their lives. The "scribes and the Pharisees" and anyone who keeps the interior paparazzi busily snapping self-conscious images want to keep themselves in the picture. They want to get something. They want to become something for their own benefit. They want to buy their way into eternal life.
It is as children that we remain before the Father, students before the Master, humble servants before our brothers and sisters.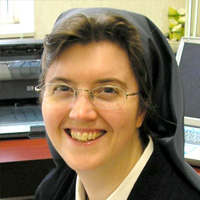 Kathryn James Hermes, FSP, is the author of the newly released title: Reclaim Regret: How God Heals Life's Disappointments, by Pauline Books and Media. An author and spiritual mentor, she offers spiritual accompaniment for the contemporary Christian's journey towards spiritual growth and inner healing. She is the director of My Sisters, where people can find spiritual accompaniment from the Daughters of St. Paul on their journey. Website: www.touchingthesunrise.com Public Facebook Group: https://www.facebook.com/groups/srkathrynhermes/ For monthly spiritual journaling guides, weekly podcasts and over 50 conferences and retreat programs join my Patreon community: https://www.patreon.com/srkathryn.