Our family was recently blessed to take a 5-day vacation in northern Michigan. Although our excursion didn't take us to the Upper Peninsula, we were far enough north to feel the cool morning air, listen to the breeze rustle through the tall trees and enjoy the clear Pure Michigan lakes. The weather was as close to perfect as it gets, sunny skies and mid to upper 70's the whole time. We were able to get away from it all. No home projects, no family problems, no moving planning… Our only goals were to hit the beach and go out for ice cream every day. Thankfully, we had no problem meeting them.
My kids got to deepen their suntan at the parks, in the water and at the B&B. Of course no one wanted to come back, and almost every year we talk about getting a place up there, even if it's only dreaming.
We got home refreshed and exhausted but had no choice but to hit the ground running since laundry and grocery shopping awaited us. Sometimes it's hard not to go into a slight depression after being on vacation and having such a great time. Sometimes it's hard to stay positive.
Looking at today's readings, I'll admit I had trouble finding anything positive. "Because you are haughty of heart…" "You are a man and not a god…" "They shall thrust you down to the pit, there to die a bloodied corpse…". Wait, is this some sort of pirate novel or the Bible?!
Alas, sometimes we need confronting. Sometimes we need someone to wake us up from our bullheadedness, our daily seeking of our own way, our constant need to be in control. We need someone to shake us up a bit and say "Hey! You know that habit that you've gotten into that you think is just a normal part of life? That's NOT okay. That needs to change."
In the Gospel Jesus continues to confront his disciples, explaining how difficult it is to enter the Kingdom of heaven. "Again I say to you, it is easier for a camel to pass through the eye of a needle than for one who is rich to enter the Kingdom of God." Is everything doom and gloom today? Where is our hope?
I take a deep breath, continue reading and there it is: "For men this is impossible, but for God all things are possible." Ahhh yes, when I rely on my own devices, my own stubbornness, my own pride, then things can so easily go awry, but God is in charge here and with Him all things are possible.
ALL THINGS. That is a bold statement, yet one that gives us so much comfort, so much stability, so much peace when our world feels topsy turvy. Only God can claim that ALL THINGS are possible, because only He is in control.
Lord, take my impossible things today and make them possible. May your will be done in my life. Even though I can't enjoy the freedom of a vacation every day, I know that I will enjoy it one day in heaven if I walk by Your side. May I never part from You, who make all things possible. Amen.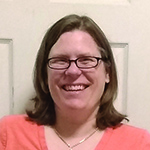 Tami Urcia grew up in Western Michigan, a middle child in a large Catholic family. She spent early young adulthood as a missionary in Mexico, studying theology and philosophy, then worked and traveled extensively before finishing her Bachelor's Degree in Western Kentucky. She loves tackling home improvement projects, finding fun ways to keep her four boys occupied, quiet conversation with the hubby and finding unique ways to love. She works at Diocesan, is a guest blogger on CatholicMom.com and BlessedIsShe.net, runs her own blog at https://togetherandalways.wordpress.com and has been doing Spanish translations on the side for almost 20 years.