A colleague and I were discussing the age-old dilemma of finding new people to step up and share leadership in an organization. It doesn't matter what type of organization you are in, the same people seem to make sure that birthdays are remembered, bake sales happen, and holiday functions get planned. We were realizing how even though it seems counter intuitive, sometimes, you just have to let go in order to have things start anew. Sometimes there has to be a vacuum, something has to not happen for people to become conscious again of how much these little events build community and bring us closer together.
"Unless a grain of wheat falls to the ground and dies, it remains just a grain of wheat; but if it dies, it produces much fruit."
(I don't know about you, but I have "Circle of Life" from The Lion King playing in my head right now.)
There is a cycle to all the things of this world, a time to sow and a time to reap. We tend to focus on the sowing and the reaping we do on a daily basis. The first reading today reminds us of "the one who supplies seed to the sower and bread for food." It is so easy to get so caught up in making things happen, that we forget the source of those things. We talk about providing for our families and getting what we need, as if it all relied only on our own efforts. Of course, we work to be able to fulfill our obligations and take care of our families but the source of all we have really comes from God. The food we make, we may grow it, but we don't make it grow. When we use our talents to produce goods to sell or share, we always start with raw material that comes only from the Creator.
We see the same thing socially, whether it is in our parishes, schools, families, workplaces or other groups. There is a cycle to events and happenings and sometimes the worst thing we can do is try to stop the cycle to continue something that we think is serving a need, but has outlived its purpose. By experiencing the ebb and flow of events, happenings, and even people in our life, we can reflect and come to truly value those things which are ultimately most valuable. We can step back from the things of creation and refocus on the Creator who calls all things into being.
"Whoever serves me, must follow me, and where I am, there also my servant will be. The Father will honor whoever serves me."
My prayer for you today, is to allow the natural ebb and flow of nature, the transitions of daylight and darkness, of sowing and reaping to help whatever grain of wheat you are still holding tight to fall so that it may bear fruit and bring you closer to the one we serve, no matter what the season.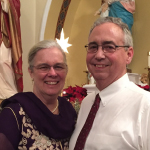 Sheryl delights in being the number 1 cheerleader and supporter for her husband, Tom who is a candidate for the Permanent Diaconate in the Diocese of Kalamazoo. They are so grateful for the opportunity to grow together in this process whether it is studying for classes, deepening their prayer life or discovering new ways to serve together. Sheryl's day job is serving her community as the principal for St. Therese Catholic School in Wayland, Michigan. Since every time she thinks she gets life all figured out, she realizes just how far she has to go, St. Rita of Cascia is her go-to Saint for intercession and help. Home includes Brea, a Bernese Mountain dog and Carlyn, a very, very goofy Golden Retriever.