Ask any one of my friends – I'm a worrier. Maybe it's a direct result of growing up with ever-changing Ohio weather and heartbreaking Cleveland sports that I tend to assume the worst in any given situation.
As a direct result of being a worrier, trust in God is always something I'm working on and something people (ex: the priests in my life) are always telling me to do.
Seriously, one recent Friday evening at the parish, I was lamenting a rainy weather forecast while inquiring about a backup plan for an outdoor First Communion group photo when both my pastor and my DRE told me, "Trust in the Lord, it won't rain tomorrow morning." And guess what? They were right. While it wasn't exactly sunny, it did not rain on that beautiful, grace-filled morning.
Now, trusting in the Lord certainly applies in bigger situations than just a simple weather forecast (who can trust meteorologists anyways?), but since that one small instance, it's been something particularly on my heart, in one way or another. Then I read this weekend's Gospel passage and it all just hit me.
If we trust in the Lord, with Him working through us, we can do miraculous things. Peter calls out to Jesus who is walking on the water, Jesus tells him to come and so Peter walks on water too. It's as simple as that.
One thing is key here, I believe – we must cry out to Jesus. Peter didn't step out on the water on a whim, thinking he'd be able to walk over to Jesus. He called out to Jesus first and then trusted in Jesus' answer, His command to "come." And so Peter went – he succeeded in walking on water. I think we always forget about this part at the expense of what follows.
Peter's trust in the Lord waned at the sight and strength of the fierce wind. That's when he started sinking into the water, not because of the wind or the waves or the storm but because he stumbled in his trust. But what does Peter do when he's in trouble? He cries out to the Lord for help and Jesus extends his hand to save him.
How many times do the storms in our lives overtake our life of faith and our trust in the Lord? My guess is far too many. Yet God is there in those dark moments, in the messiness and in the struggles. We can trust that He will be there and we can trust that He will answer our pleas, much like Jesus responded when Peter cried out to Him.
Try to live in the light of Jesus, not in the darkness of fear. And, yes, I'll try to listen to my own advice too.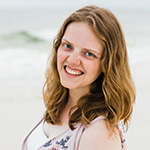 Erin is a Cleveland native and graduate of the Franciscan University of Steubenville. Following graduation, she began volunteering in youth ministry at her home parish of Holy Family Church. Her first "big girl" job was in collegiate sports information where, after a busy two years in the profession on top of serving the youth, she took a leap of faith and followed the Lord's call to full-time youth ministry at St. Peter Church. She still hopes to use her communication arts degree as a freelance writer and statistician, though. You can catch her on the Clarence & Peter Podcast on YouTube as well as follow her on Twitter @erinmadden2016.