Today we celebrate the Feast of the Transfiguration of the Lord. People often ask for signs in moments of despair or hopelessness. No greater sign can be given than the Transfiguration. In order to strengthen the Apostles-specifically Peter, James, and John-and give the three of them a glimpse of His divinity, a sign of hope for what they believe in. Peter's response to Jesus' transfiguration and the appearance of Moses and Elijah is, "Lord, it is good that we are here."
Lord, it is good that we are here.
What a powerful statement! It is good that we are here. Not only in His glory, but at the foot of His Cross, as John was. The Transfiguration is a sign of what Christ's suffering will bring about for the world: glory! However, that glory was not attained without suffering. Jesus endured the Passion to bring about our redemption. When we unite our sufferings to the suffering of Christ, we are filled with the hope of the glory of the Resurrection. That hope is what Jesus gives to us in the Transfiguration. He gives us the hope that will get us through whatever present suffering we might be experiencing and the hope that guides our faith.
May we remember that it is good that we are "here"…wherever "here" is. Be it with our families, with our friends, at work, at the grocery store. It is good that we are here and that we know the Glory of God. When "here" is a place of despair, loneliness, or suffering, may we remember the Transfigured Lord and pray, "Lord, it is good that we are here."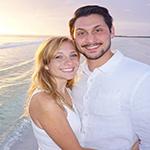 Dakota currently lives in Denver, CO and teaches English Language Development and Spanish to high schoolers. She is married to the love of her life, Ralph. In her spare time, she reads, goes to breweries, and watches baseball. Dakota's favorite saints are St. John Paul II (how could it not be?) and St. José Luis Sánchez del Río. She is passionate about her faith and considers herself blessed at any opportunity to share that faith with others. Check out more of her writing at https://dakotaleonard16.blogspot.com.