If I can be completely honest I am facing a great time of spiritual dryness in my life. I have so many blessings and I know God is present in my life, and He always will be, but I feel so distant from Him. How do I draw closer to Him in these times of feeling down and out, of feeling like I don't know my place or just a lack of inspiration to draw closer to Him?
I know we have all experienced times like these, including the saints. Mother Teresa is one of the saints infamously known for not feeling God's presence for 50 years. She devoutly served Him and trusted His presence even though she experienced this dryness for decades. I cannot imagine how much of a struggle this must have been for her, trying to serve individuals with great needs in Calcutta within the spiritual desert she found her soul in. Ultimately she knew God was with her and she had one key source that continued to keep her going – Jesus in the Eucharist.
Mother Teresa made it a priority to ensure that she and her sisters had time before Jesus in the Eucharist every single day. The source and summit of our faith was the center of her ministry and provided her with the grace she needed to keep going, loving God and loving others with the love of Christ. The graces received from the Eucharist are beyond our human understanding.
At the end of the day, we can all learn from Mother Teresa. We must draw our strength from the Eucharist. Jesus is there waiting for us. Whether we visit Him in person or watch a live stream (I have one in Poland that I love to watch on Youtube) Jesus is with us and we are with Him. During these times of uncertainty, He wants to remain hopeful in Him, no matter where we are at on our spiritual journey. I feel as though I write often on struggle, anxiety, and spiritual dryness but I hope that this honest post will bring you hope. Know that you are not alone in the desert, Christ remains with us always (no matter if we feel distant from Him – He never leaves our side), and go forward with courage on the mission God has for you. Draw close to Him in the Eucharist, whether online or in-person and trust Him to be with you as you find your Calcutta.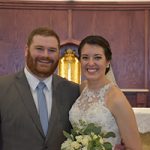 Nathalie Shultz is a joyful convert to the Catholic faith and a competitive swimmer with Obsessive Compulsive Disorder (OCD). She loves to share her passion for Catholicism with others, including her conversion story and how God continues to work miracles in her life through her OCD. She is the Director of Religious Education for the North Allegan Catholic Collaborative of parishes. Nathalie is married to her best friend, Tommy Shultz. Her favorite saints include St. Peter the Apostle, St. Teresa of Calcutta, and St. John Paul II. She is also a huge fan of C.S. Lewis. If you have any questions for Nathalie, or just want her to pray for you, you can email her at rodzinkaministry@gmail.com.