This is my all-time favorite passage in scripture. Firstly, we see Jesus go off by himself to pray. As if preparing for the opening night of a play or an amazing feat of strength, Jesus goes off by himself to focus on the miracle he is about to perform, and more importantly, the message he is going to send.
Secondly, you can almost feel the fear in the hearts of the disciples. The boat being tossed by the waves, their minds knowing from their trade how quickly the sea can turn from a friend to a foe. A single second is the difference between life and death. Jesus allows them to stay in the boat until they mistake him for a ghost and he immediately shows to them who he is. The disciples realize how much they need the Lord, and immediately he shows himself to them.
Thirdly, he shows them how they can trust. Trust in the power and might of God. Trust in his promises. Trust in his love. Trust in his mercy. So Jesus prays, helps the disciples see their need for God, and then fulfills this need through his miracle of walking on the water and calming the storm.
The question is how do we respond? The disciples responded in three ways. There were those who remained scared and stayed in the boat. Fear overcame them and they did not trust. There was Peter who walked out on the water towards Jesus. His eyes fully fixed on Christ and his promises. And then finally there is Peter as he sinks, getting distracted by the waves that crashed about around him and losing focus on the Lord.
Which one are we? Are we afraid? Are we walking and trusting? Or are we starting to sink? The answer to wherever we are at right now in our lives is what Jesus taught us. Pray, realize our need for God, and then allow the Lord to perform wondrous miracles in our lives. May we be honest with ourselves about where we are and strive to trust, even when the waves crash. God Bless!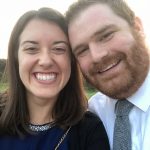 Tommy Shultz is Director of Evangelization for the North Allegan Catholic Collaborative and the founder of Rodzinka Ministries. In these roles, he is committed to bringing all those he meets into a deeper relationship with Christ. Tommy has a heart and a flair for inspiring people to live their faith every day. He has worked in various youth ministry, adult ministry, and diocesan roles. He has been a featured speaker at retreats and events across the country. His mission and drive have been especially inspired by St. John Paul II's teachings. Tommy is blessed to be able to learn from the numerous parishes he visits and pass that experience on in his presentations. With a degree in Theology from Franciscan University, Tommy hopes to use his knowledge to help all people understand the beauty of The Faith.