When was the last time you felt like you were on your own? Where it felt as though it was all up to you? Perhaps you felt discouraged or alone facing a certain challenge. I for one have a habit of worrying that makes trusting God a constant choice I have to choose again and again. I have to give up the reins and remember that He answers all my needs.
This is the beauty of the Scripture readings today. We are reminded that Jesus takes care of our every need and we face absolutely nothing alone. In the First Reading, we hear God's invitation to those who are thirsty to come to the water and drink without cost. He asks us, "Why spend your money for what is not bread; your wages for what fails to satisfy?" For He alone satisfies our heart's desires and offers it to us without cost. We don't need to do anything to deserve this gift. He freely gives it to us.
The Responsorial Psalm reiterates the truth that "The hand of the Lord feeds us, He answers all our needs." In the Second Reading, we are asked "What will separate us from the love of Christ?" As we read on, we find that nothing can separate us because "we conquer overwhelmingly through Him who loved us". We are never alone, He is on our side and always with us. We can do all things through Him. Our Gospel Reading ties all these readings together with Jesus' miracle of the five loaves and two fish, feeding five thousand people. The disciples wanted Jesus to dismiss the crowd so that they could go into town and buy their own meals, but Jesus had other plans. He provided for the needs of those before Him, He didn't let a single one of them go without eating. "They all ate and were satisfied."
Let us remember in times we feel alone or struggle to trust, that He invites us to come and drink. That nothing can separate us from the love of Christ, He is always on our side. Let us remember that "The hand of the Lord feeds us, He answers all our needs." When we go to Him and open our hearts to His love, we will be like the crowd that day, satisfied.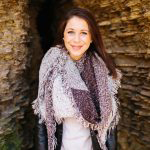 Briana is the Pastoral Minister at St. Mark Church in Cleveland, OH. She received her Bachelor of Arts in Theology and Catechetics from the Franciscan University of Steubenville, OH, and is excited to use these skills to serve the Church.