Store up in your minds the Lord's words, which you receive through your ears, for the Word of the Lord is the nourishment of the mind. Be careful that the seed received through your ears remains in your heart." – Pope St. Gregory the Great
In today's Gospel, we hear the Parable of the Sower, the parable in which Jesus compares the Word of God being received by different types of people to seed being sown on different types of ground. This is one of my favorites because not only does Jesus tell the parable, He tells us how it should be interpreted:
The seed sown on the path represents the person who hears the Word of God without understanding it.
The seed that falls on rocky soil represents the person who received the Word of God with joy but quickly falls away.
The seed that falls among thorns represents the person who hears the Word of God but is distracted by worldly things and does not share the Word.
The seed that falls on good soil represents the person who hears the Word of God, understands its meaning, lives according to God's Word, and encourages others to do the same.
This Gospel is an invitation to evaluate how we are living our own lives. When we hear the Word of God, what do we do? What harvest do we reap? Do we dismiss the Gospel message because we do not understand it or do not think it is relevant in today's world? Are we afraid of persecution and therefore fall away from the Word of God? Are we distracted by the messiness and complicated nature of our world right now and not make time for the Gospel? Or, do we live every day with God and His Word at the center and allow ourselves to be vessels of His Word and His love?
Pope Francis says that in this parable Jesus presents himself as the sower because he does not "impose but proposes". He throws the seed, inviting us to Him and giving us what we need to grow in faith (the seeds). However, it is up to us to determine what kind of foundation that seed will land upon.
May our hearts always be open to the Word of God and our mouths always willing to share His love.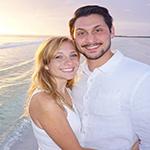 Dakota currently lives in Denver, CO and teaches English Language Development and Spanish to high schoolers. She is married to the love of her life, Ralph. In her spare time, she reads, goes to breweries, and watches baseball. Dakota's favorite saints are St. John Paul II (how could it not be?) and St. José Luis Sánchez del Río. She is passionate about her faith and considers herself blessed at any opportunity to share that faith with others. Check out more of her writing at https://dakotaleonard16.blogspot.com.