Have you ever thought about how many processes are involved just to bring us one simple breath or a heartbeat? This is commonplace knowledge for a med student and beyond the realm of most of us, but very few sit and reflect on what is actually involved. What about the mathematics of the distance between the earth and the sun and how a single degree off could send us spiraling into a fiery abyss? Again, common knowledge to an astrophysicist and above our limited reason without study, but how many truly sit and ponder and reflect on this?
Ok, maybe those are huge examples. How about the process that goes into a hot cup of coffee? From someone growing the beans to shipping them, to grinding them, to roasting them, to finally making the cup. A seemingly simple action, but lots of work behind the scenes.
Such is our spiritual life sometimes. I don't know about you but I grew up asking for signs. Asking for things that would be tangible that would show me Jesus and his love. Here in today's Gospel, we hear the same cry and we hear Jesus' quick response. "An evil and unfaithful generation seeks a sign."
This kind of hits you in the face at first, but of course Jesus is not saying that there is evil in signs. In fact, he spent most of his time on earth performing miracles in order to show his power and love. What he is saying here is that an evil generation continues looking for a sign when we need to look no further than our very lives.
When was the last time God blessed you with his love? The simple answer is the last time you took a breath, but really stop and think about it for a second. When was the last tangible time that God blessed you? I think for many of us we are far too busy to see. We don't slow down enough to notice the miracles happening right before us.
Let's change this today. I challenge you and myself to pay attention to the Lord's love and power. Make it a point to thank Jesus throughout the day as you see him working and know that he is with you. God Bless!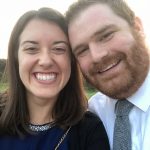 Tommy Shultz is Director of Evangelization for the North Allegan Catholic Collaborative and the founder of Rodzinka Ministries. In these roles, he is committed to bringing all those he meets into a deeper relationship with Christ. Tommy has a heart and a flair for inspiring people to live their faith every day. He has worked in various youth ministry, adult ministry, and diocesan roles. He has been a featured speaker at retreats and events across the country. His mission and drive have been especially inspired by St. John Paul II's teachings. Tommy is blessed to be able to learn from the numerous parishes he visits and pass that experience on in his presentations. With a degree in Theology from Franciscan University, Tommy hopes to use his knowledge to help all people understand the beauty of The Faith.