Today's Gospel message is one that I struggle with quite often. I find myself saying, "I got here first" or "I've been waiting longer". Sometimes I ask myself, "I've worked harder and longer. Why am I not reaping the same benefits or rewards and someone else who has not worked as hard or as long as I have?" Then I hear this parable and am immensely humbled. How many people serve God in a greater capacity than I do? A ton! Great saints like John Paul II, Gemma Galgani, Jose Luis Sánchez, and Martin of Porres dedicated their lives to Christ and His Church. Comparatively, I do very little. But rather than resigning myself to the fact that I may never "measure up" to their faith, I look to the saints as inspiration for my own life and I ask for their intercession. And what about those who have not yet come to the faith? Would we reject them just because they are coming to the faith later than we are? Absolutely not! We welcome them with open arms because we are grateful that they have come to know the same love of God that we know.
Today's Gospel serves as a humbling reminder that God is generous and merciful. He desires for us to be united with Him in His Heavenly Kingdom whether we come to His vineyard at 5 years old or at 95. It is not an effort of ours or merit we can earn that grants us God's love. Rather, He loves without condition and makes His love equally available to all.
When we come to God's vineyard, He envelops us in His love which we hear of in today's Responsorial Psalm. Every time I hear or read Psalm 23, I think of myself in preschool. I don't have many memories of preschool; in fact, I don't even remember my teacher's name or the names of any of my classmates. What I do remember, however, is being taught Psalm 23. "The Lord is my shepherd; there is nothing I shall want." For a long time, I wondered why that psalm and why at such a young age? Looking back now, I think I understand. Our teacher wanted us all to be confident in and of God's everlasting love for us. If we know that love at a young age we can grow up knowing Him and loving Him, and even perhaps begin bringing more laborers to His beautiful vineyard.
May we always remember the love of God and may we continue working as laborers in his vineyard.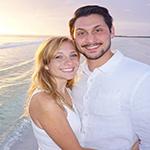 Dakota currently lives in Denver, CO and teaches English Language Development and Spanish to high schoolers. She is married to the love of her life, Ralph. In her spare time, she reads, goes to breweries, and watches baseball. Dakota's favorite saints are St. John Paul II (how could it not be?) and St. José Luis Sánchez del Río. She is passionate about her faith and considers herself blessed at any opportunity to share that faith with others. Check out more of her writing at https://dakotaleonard16.blogspot.com.