In the study of science, form and function refers to the relationship between the structure of a thing and the way it functions. Today's Gospel reading gives us a beautiful opportunity to look at both the form and function of one of Jesus's prayers.
"At that time, Jesus exclaimed…"
Can you imagine what it would be like to hear Jesus praying in person? Mind-blowing, even to imagine, isn't it? In today's Gospel, Jesus's prayer functions to bring glory and praise to the Father. He names God as Father and Lord of heaven and earth, teaching us about who God is and who we are in relationship to God. God has hidden this understanding from those who consider themselves wise and learned and has instead chosen to reveal himself to the childlike. Coming on the heels of the Beatitudes, the childlike are the poor of the Beatitudes and theirs is the kingdom of heaven. And Jesus's "Yes, Father," echoes Mary's Fiat which teaches us about the relationship between mother and son, joined in their dedication to the Father's will. (CCC 2603)
But let's think about the form for a minute. Why would Jesus, one and consubstantial with the Father, bother to speak his prayers out loud? Notice the term used in the English translation, "exclaimed".
Not "Jesus said" or "Jesus whispered" or "mumbled", the word chosen is "exclaimed".
Exclaimed (past tense verb) to cry out or speak in sudden, strong emotion (Mirriam Webster Dictionary)
When was the last time a prayer came out as a cry in sudden, strong emotion?
We can learn from the function of this prayer to acknowledge God and who we are before him. We can humble ourselves to become like the poor of the Beatitudes so that we too may enter into the kingdom of heaven. We can learn from the form of the prayer, that our prayers should not be mere words, but should spill from the depths of our hearts. Jesus is tapping into our human nature, the way we were created. We are body and spirit and we have a need to translate our interior feelings externally. CCC (2702)
This all has a very practical application. When we are distracted in prayer, the distraction reveals to us the stuff to which we have attached ourselves. Instead of denying distraction, we can embrace it and allow it to humble us before God, asking him to set fire to our hearts and awaken our preferential love for him. Distraction is the call to make a choice of which master we serve. By turning into the distraction and offering it to God, we put ourselves in a position so that God can work in us. (CCC 2729) We need to pay attention to both the form and the function of our prayer.
In the words of St. John Chrysostom, "Whether or not our prayer is heard depends not on the number of words, but on the fervor of our souls."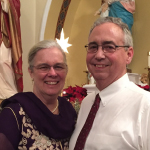 Sheryl delights in being the number 1 cheerleader and supporter for her husband, Tom who is a candidate for the Permanent Diaconate in the Diocese of Kalamazoo. They are so grateful for the opportunity to grow together in this process whether it is studying for classes, deepening their prayer life or discovering new ways to serve together. Sheryl's day job is serving her community as the principal for St. Therese Catholic School in Wayland, Michigan. Since every time she thinks she gets life all figured out, she realizes just how far she has to go, St. Rita of Cascia is her go-to Saint for intercession and help. Home includes Brea, a Bernese Mountain dog and Carlyn, a very, very goofy Golden Retriever.