For the most part, I am someone that avoids confrontation. I don't like making a scene and am terrible about internalizing arguments instead of being vocal. More recently, I have had conversations with friends and family that I would have shied away from.
In today's Gospel, Jesus tells us that he has, "come to bring not peace but the sword," something that we often forget. From my own experience, I've found that many people view religion as a set of beliefs that lead one to pure happiness and inner peace. They don't understand that Catholicism is not about selfish happiness and inner peace. While joy and peace may be byproducts of wholehearted faith, but they have never been the goal. The goal is to do the work of God, even in difficult times and amidst battles. Yes, battles.
In order to fight for your beliefs-to fight for your God-you may have to actually fight. You cannot take a back seat to your life and the world around you then complain. In fact, our Catholic faith is very much focused on community and how we all play a part in a much larger picture. We play a part in others' lives. We are called to serve God, help others, and not be selfish in all that we do. We are called to spread the Word of God for the glory of God. Sometimes this calls for confrontation and, most assuredly, the clashing of ideas.
In today's Gospel, Jesus tells us that he has, "come to bring not peace but the sword," and to put mother against daughter, father against son. This really struck a chord with me because while I've had the fortune of spending the last 4 months of quarantine at my parent's house, I've also had my fair share of disagreements with them. These situations in which disagreements arise would have, in the past, kept me silent.
Now, I know that it takes courage to fight for the lives of others. It takes seeing God in others to fight for even those you cannot relate to, to see their human dignity. In order to find this courage, we must remember that we can always rely on God. Pray with me, today, and ask Him for his guidance.
Father, I ask you to strengthen my voice against those who do not understand your will. Although they speak louder, do not let me ever fall silent. Son, I ask that you instill in me your relentless truth. May your words be passed through me to glorify you. Holy Spirit, I ask for your guidance in when to speak up and speak out. May you soften the hearts of all those that listen.
Amen.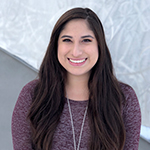 Veronica Alvarado is a born and raised Texan currently living in Michigan. Since graduating from Texas A&M University, Veronica has published various articles in the Catholic Diocese of Austin's official newspaper, the Catholic Spirit, and other local publications. She now works as the Content Specialist in Diocesan's Web Department.