In the beginning, we hear that God creates the heavens and earth. It seems like we have grasped what that means, but really take a second to think about. In the beginning, God creates us to be with him, walk with him, love him, and be loved by him. The heavens and the earth seem to mix together like a beautiful tapestry of wet paint still waiting to dry.
Then as time goes on, the paint dries and seems to start to separate. The colors pulling further and further apart with every stroke that we flick against our own humanity. The chasm of the world and heaven rips open and we realize what it means to die, to suffer, to be unhappy.
This seems to be a painting that nobody would ever want, forgotten in an attic to collect cobwebs as we forget more and more our original state, our original happiness. Getting more and more comfortable with the mediocre because we forget the beautiful colors of our birthright.
Thankfully, someone steps in, like Bob Ross picking up a painting and fixing the colors, the shading, and the overall feel of the landscape. Taking our fractured painting and turning it once again into something beautiful. Fixing the gap of black paint with vibrant colors again and a new air of hope.
Have we ever thought of salvation history this way or do we let the depth and reality of it fly over our head and become familiar and boring? That's the question we should ask ourselves today. Jesus is our mediator with the Father, and he cares. That should blow our minds. That should be better than any work of art, no matter how beautiful.
I pray today that we all realize how much Jesus has given up so that we could once again walk with, talk with, and love our Father, where the heavens and earth fuse together in perfection for all eternity.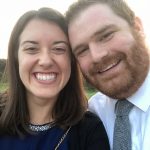 Tommy Shultz is Director of Evangelization for the North Allegan Catholic Collaborative and the founder of Rodzinka Ministries. In these roles, he is committed to bringing all those he meets into a deeper relationship with Christ. Tommy has a heart and a flair for inspiring people to live their faith every day. He has worked in various youth ministry, adult ministry, and diocesan roles. He has been a featured speaker at retreats and events across the country. His mission and drive have been especially inspired by St. John Paul II's teachings. Tommy is blessed to be able to learn from the numerous parishes he visits and pass that experience on in his presentations. With a degree in Theology from Franciscan University, Tommy hopes to use his knowledge to help all people understand the beauty of The Faith.