Today we hear Jesus tell His Apostles their mission. In this Gospel, He urges them to proclaim that the Kingdom of heaven is at hand, to cure the sick, raise the dead, cleanse the lepers, and drive out demons. They do not do this on their own powers but through Christ. He is commissioning His apostles, our first priests to continue His work on earth. As we are all called to be His disciples, we too can take much of this mission to heart. He advised them to wish peace to every house they enter. If it is not a worthy house or if the house or town does not listen to their words, He says to "shake the dust from your feet".
A few reflection questions to consider from Jesus' words today; are you proclaiming that the Kingdom of Heaven is at hand? Are you a man or woman of peace? Do you wish peace to all those you encounter in and outside of your family or your communities? How can you grow in bringing Christ's peace to those who are not at peace? When someone is not open or responsive to your evangelization, do you shake the dust from your feet? Do you still wish them peace and continue the mission of proclaiming the Good News?
May we all shake the dust from our feet and find strength and peace in Christ as we continue to be His missionary disciples.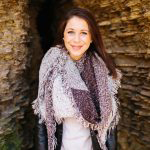 Briana is the Pastoral Minister at St. Mark Church in Cleveland, OH. She received her Bachelor of Arts in Theology and Catechetics from the Franciscan University of Steubenville, OH and is excited to use these skills to serve the Church.