The phrase 'the kingdom of heaven, the kingdom of God, is at hand is mentioned one hundred and twenty-two times in the gospels. We heard it twice today. I had to pause and sit with this statement. I still struggle with what this means to me and what I am meant to do.

This phrase from morning prayer (on Monday) stayed with me. 'You sent your Word as the sun of truth and justice shining upon mankind.' Jesus' word is truth and justice. Jesus shared his words with the apostles. He sent them out to proclaim that the 'kingdom of heaven is at hand.'
Again my question surfaced, what am I meant to do? Who am I in His Kingdom?

I am called to build the kingdom of God in civil and everyday situations and activities. I am called to live with the Gospel as my template and guide, going seamlessly from the Gospel to life, and from life to the Gospel. I am called to be attentive to what is happening in the current situations of life all around me. I am to be present and aware of consistently sharing the Gospel message, the truth, and justice found in the Word and the Way. Most importantly, I am to be humble while sharing the Gospel in my actions and words as I live my life each day.

A great light left this world Tuesday when Ennio Morricone died at 91. Ennio was a composer who began his career arranging sacred music for radio broadcast in 1950. He had a love of Gregorian chant and sacred music. He was commissioned in 2012 to write a Mass to commemorate the Jesuit order to which Pope Francis belongs).
Ennio Morricone is better known for his more than five hundred film scores. I believe Mr. Morricone's works illustrate the words of the psalm today, 'sing to him, sing his praise, proclaim all his wondrous deeds.' Ps 105 One of my favorite scores is for The Mission. This movie is at the top of Fr Casey Cole's list of must-see Catholic movies. Ennio Morricone had a gift to take what was happening in a film and translate the environment, feeling, mood, and tension of the script and make it come alive to the viewers and all who listen to the music.
Part of my walk in the Kingdom is to write as a way to invite and share God's Kingdom. Who are you in His Kingdom? What are you called to do today? How are you attentive to the Gospel as you see it played out in your life?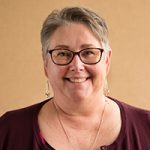 Beth is part of the customer care team at Diocesan. She brings a unique depth of experience to the group due to her time spent in education, parish ministries, sales and the service industry over the last 25 yrs. She is a practicing spiritual director as well as a Secular Franciscan (OFS). Beth is quick to offer a laugh, a prayer or smile to all she comes in contact with. Reach her here bprice@diocesan.com.