Do you ever feel like evil has all the power and has somehow won? Well here is a little quote from today's Gospel reading that hit me in the face; "What have you to do with us, Son of God?
Have you come here to torment us before the appointed time?"
Even the evil spirits know the saving power of God and are aware of his strength. They may not like it, but they are aware of it and powerless before it. This has always given me so much hope. No matter what happens in life, Satan does not have the power, that alone belongs to God.
When Christ died on the cross he conquered sin once and for all. Yeah, yeah, yeah we have heard it all before. Jesus saved us. Take one minute. Take a deep breath. Breathe slowly and with every breath invite the Lord into your heart. Now take a moment to actually let the saving power of God work in your life. Let him speak truth into your heart. Let him wrap you in his sacred love.
We know so many concepts of the faith, like Jesus died for us, but let's not let these be facts on a page. Let's make them into real and tangible realities that change our lives forever. Take another moment. God loves you. He sees you. He knows you. Let him just be with you for a minute. Take a breath.
You know those moments when you have been away from someone for a really long time and then finally are reunited? Let's try to live in such a way that we never have these with God. I have found that taking moments throughout the day to realize the reality of God's love and to let it soak in can be so helpful. We build a relationship instead of just learning facts. That is where the beauty and love stream in. God Bless!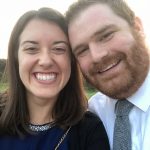 Tommy Shultz is Director of Evangelization for the North Allegan Catholic Collaborative and the founder of Rodzinka Ministries. In these roles, he is committed to bringing all those he meets into a deeper relationship with Christ. Tommy has a heart and a flair for inspiring people to live their faith every day. He has worked in various youth ministry, adult ministry, and diocesan roles. He has been a featured speaker at retreats and events across the country. His mission and drive have been especially inspired by St. John Paul II's teachings. Tommy is blessed to be able to learn from the numerous parishes he visits and pass that experience on in his presentations. With a degree in Theology from Franciscan University, Tommy hopes to use his knowledge to help all people understand the beauty of The Faith.