As Jesus got into a boat, his disciples followed him. Suddenly a violent storm came upon the sea so that the boat was being swamped by waves, but he was asleep. They came and woke him…
Following Jesus can lead us to places where things get out of control, where our emotions feel like a violent storm and our thoughts threaten to capsize our sanity.
Jesus will bring us to liminal spaces. The word "liminal" is derived from the Latin word "limens," which means threshold. When you find yourself in a liminal space, you are quite literally standing on the threshold between one room and another, one stage of your life and another, one reality and another.
Liminal spaces are disorienting. These fishermen who were quite familiar with having weathered storms before are suddenly disoriented and terrified. More than a potential watery death, this storm at sea is the middle stage of moving from one state to another.
Today's reading is from chapter 8 of Matthew. In the fourth chapter, there is excitement running through every line. Jesus was calling his disciples and they left everything on the spot to follow him. Great crowds joined an accompanied him as he cured the sick who were brought to him and freed those possessed by demons. In chapters 5 through 7, we listen to Jesus speak to our hearts a new way of life in the Sermon on the Mount. In the first part of chapter 8 before the storm on the lake, Jesus encounters deeply humble people:
a leper who approached him and prostrated himself with the words, "if you willing, you can cure me," and Jesus stretched out his hand,
the centurion who begged Jesus to heal his servant boy, stating that Jesus had but to say the word since he understood that Jesus' spoke with authority and had the power to do as he asked,
Peter's mother-in-law who doesn't even ask to be healed, but who silently receives this gift and silently serves his needs.
Next, appear disciples who start putting conditions on their following Jesus: "I will accompany you…"; "let me bury my father first."
And finally this storm at sea where the apostles need to make the transition from human excitement over the amazing life ahead of them as friends of this wonder-working rabbi to deeply humble disciples who have touched their absolute need for Jesus in a very scary situation.
Haven't we all found ourselves in such a place? A divorce, financial disaster, a pandemic, illness, family difficulties, job loss, emotional problems, the discovery that we are not, and may never be who we thought we were and hoped we would become.
Jesus was in the boat with them and he is with us. He is just waiting for us to cry out to him from the middle of whatever liminal space we are in. Sometimes I think all of mid-life is a succession of these transitional thresholds that resemble the storm at sea. When the apostles cried out, Jesus immediately got up and quieted the storm. He was already there with them the whole time. The amazing gift of this miraculous calming of the waters leads not to the apostles feeling relief but to the intense need to fall at Jesus' feet in a new type of amazement…in worship.
Being in a liminal state or place can be unsettling. It certainly feels uncomfortable. But if we open up to it, it can be the threshold to a new union with Jesus, to the dream he has for us, to an absolute conviction of God's close tenderness in our every need.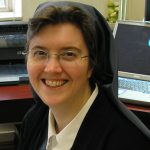 Kathryn James Hermes, FSP, is the author of the newly released title: Reclaim Regret: How God Heals Life's Disappointments, by Pauline Books and Media. An author and spiritual mentor, she offers spiritual accompaniment for the contemporary Christian's journey towards spiritual growth and inner healing. She is the director of My Sisters, where people can find spiritual accompaniment from the Daughters of St. Paul on their journey.
Website: www.touchingthesunrise.com
Public Facebook Group: https://www.facebook.com/groups/srkathrynhermes/
For monthly spiritual journaling guides, weekly podcasts and over 50 conferences and retreat programs join my Patreon community: https://www.patreon.com/srkathryn.