What is it? The thing too impossible to climb like the vastest mountain range or inner chamber of the heart. The thing so ever-present but which constantly makes us shy further and further away. The thing that consumes our every thought as we try to distract from the fact it even exists. What is it that needs to be healed in our hearts?
Have you ever had surgery on the heart tissue? I have never personally had such surgery, but some people very close to me, including my brother and dad have. When it involves the heart there is instantly a worry, a fear, or panic. I remember one time when I was living on my own that I thought I was having a heart attack. I jumped out of bed and drove to the hospital as I thought this was it. After hours of testing, it turns out that the cajun tater tots I had the night before gave me such bad acid reflux that I thought I was dying. When it involves the heart we freak out.
Maybe this is the reason we are so afraid to let God into this very thing that terrifies us. Maybe we know he can heal, but we don't want him to get that close. Maybe we have faith that he is God, but believe his time is better spent on others. Maybe we believe that our hearts were somehow created differently as if the heart switch in heaven was broken the day we were born, and we don't function properly. We all have different reasons for believing that God should not get too close. We all have different reasons for our lack of faith. I ask myself today, what is mine? Then I ask you, what is yours?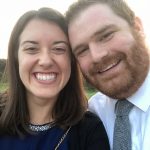 Tommy Shultz is Director of Evangelization for the North Allegan Catholic Collaborative and the founder of Rodzinka Ministries. In these roles, he is committed to bringing all those he meets into a deeper relationship with Christ. Tommy has a heart and a flair for inspiring people to live their faith every day. He has worked in various youth ministry, adult ministry, and diocesan roles. He has been a featured speaker at retreats and events across the country. His mission and drive have been especially inspired by St. John Paul II's teachings. Tommy is blessed to be able to learn from the numerous parishes he visits and pass that experience on in his presentations. With a degree in Theology from Franciscan University, Tommy hopes to use his knowledge to help all people understand the beauty of The Faith.